Strategies for Improving Fertility in Buffalo Bulls under Summer Condition in Upper Egypt
Abstract
          The purpose of this study was to determine the effect of i.m administration of (250 mg) GnRH on predicted testicular volume (PTV), scrotal circumference (SC), sperm assessment, and eventual fertility after ten weeks (period of the experiment), particularly in the summer (heat stress). Fifteen buffalo bulls (10 treatment and five control) with comparable age (1.5-2 years old) and body weight (300-400 kg) were used in this study. These animals must be housed in the Farm of Animals Production Department, Faculty of Agriculture, Al-Azhar University, Assiut, Egypt, under identical conditions (administration, diet, etc.). PTV, SC, and blood samples were collected soon before GnRH administration. Blood samples were taken from all animals after GnRH injection (treated groups) and normal saline in the control groups. PTV and SC were assessed every 15 days for the first 75 days. All blood samples were centrifuged after being stored at 4°C for 6 hours. Serum was isolated and kept at - 20°C until the hormone meagered. The ejaculate volume, individual motility, living sperm percent, and sperm concentration were all measured in the collected semen from these animals. Five females in estrus were bred by each animal from the treatment and control groups. At 60-75 days after mating, the pregnancy was detected by rectal palpation technique. Testosterone concentrations, PTV, and SC values rose considerably (P0.01) in treated bulls compared to controls after GnRH therapy. Serum testosterone levels climbed from 5.38 0.75 ng/ml to 14.86 1.51 ng/ml. Individual motility, the overall number of sperm/ejaculates, and the number of living sperm were significantly affected by GnRH administration. Furthermore, after receiving GnRH injections, the rate of pregnancy increased in females inseminated by treated bulls. It was 84.56.8% for treated buffalo bulls and 76.57.89% for control buffalo bulls. GnRH injection considerably enhanced PTV and SC levels, according to the findings. Furthermore, semen quality and fertility improved dramatically in treated bulls compared to controls, which may be affected by summer heat stress. GnRH also improves the reproductive performance of buffalo bulls in the summer.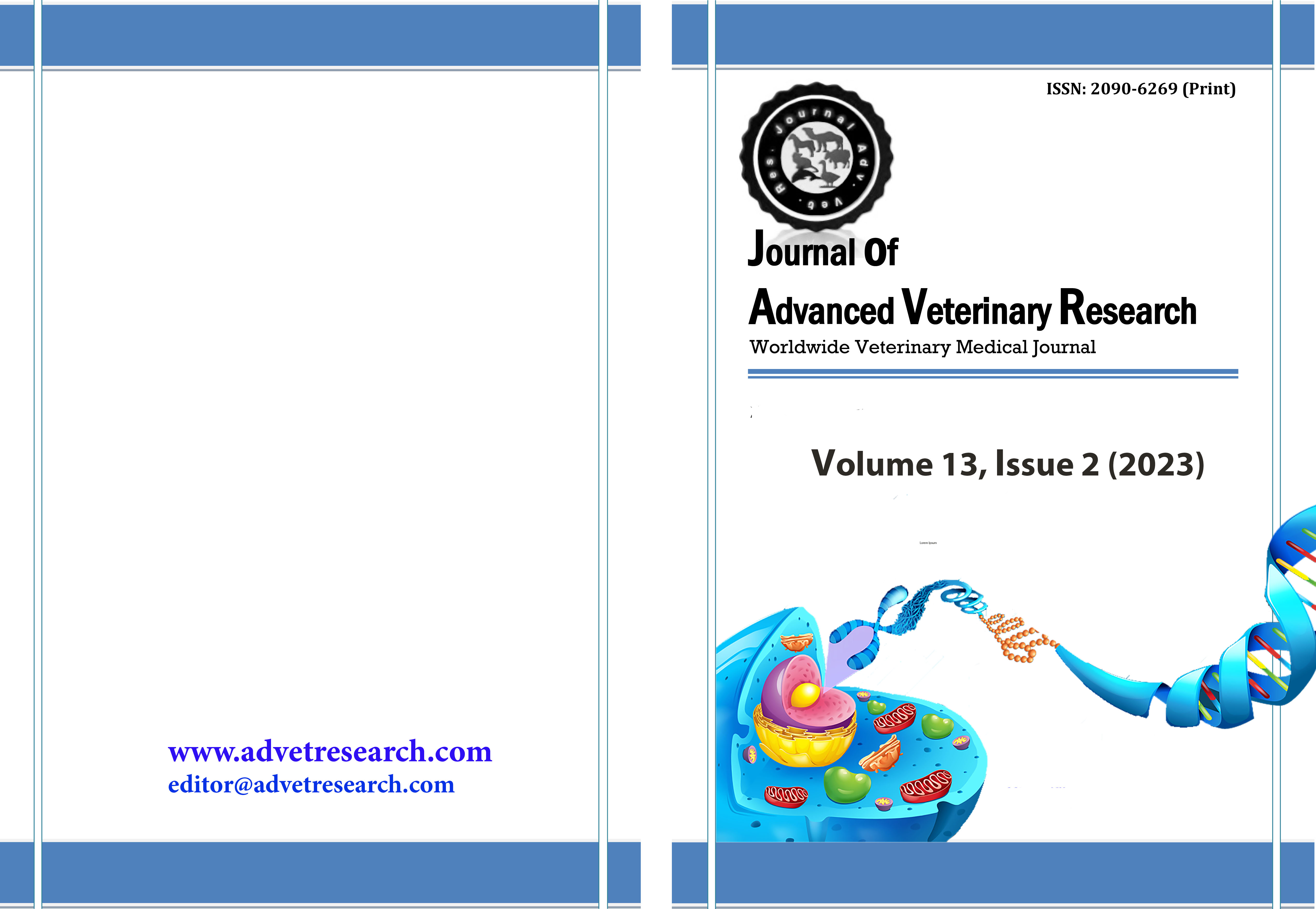 Downloads
How to Cite
Megahed, G., & Hassan, M. (2023). Strategies for Improving Fertility in Buffalo Bulls under Summer Condition in Upper Egypt. Journal of Advanced Veterinary Research, 13(2), 236-240. Retrieved from https://advetresearch.com/index.php/AVR/article/view/1192
Section
Original Research
License
Copyright (c) 2023 Journal of Advanced Veterinary Research
This work is licensed under a Creative Commons Attribution-NonCommercial-NoDerivatives 4.0 International License.
Users have the right to read, download, copy, distribute, print, search, or link to the full texts of articles under the following conditions: Creative Commons Attribution-NonCommercial-NoDerivatives 4.0 International (CC BY-NC-ND 4.0).
For more information: