Studies on the Immunostimulatory Effect of Propolis in Diarrheic Buffalo Calves
Keywords:
Immunostimulant; Propolis; Diarrhea; Buffalo; Calf
Abstract
Propolis has numerous biologic activities including antibiotic, antifungal, antiviral, anti-inflammatory and immunostimulant properties. This study was conducted in order to determine the bacterial causes of calf diarrhea and the effect of propolis on the immune response of the diarrheic buffalo calves. A total of 300 diarrheic buffalo calves belonging to buffalo farm at Assiut governorate were used for this study. The diarrheic calves were administered propolis orally (200 mg/kg body weight) one times daily for a period of 50 days. Serum IgM level was determined. In addition, bacteria was isolated and identified from fecal samples. E.coli and Klebsiella oxytoca. were detected in 285 and 15 calves respectively. The ELISA test revealed an increase in the serum IgM level from 59.026±9.704 to 122.863 ±38.856 ng/ml (p<0.01) after administration of propolis for 10 days in the 2nd group (propolis group). There was no statistically significant difference between the groups administered propolis and other groups. In conclusion, propolis acted as a non-specific immunostimulant during a short term treatment protocol.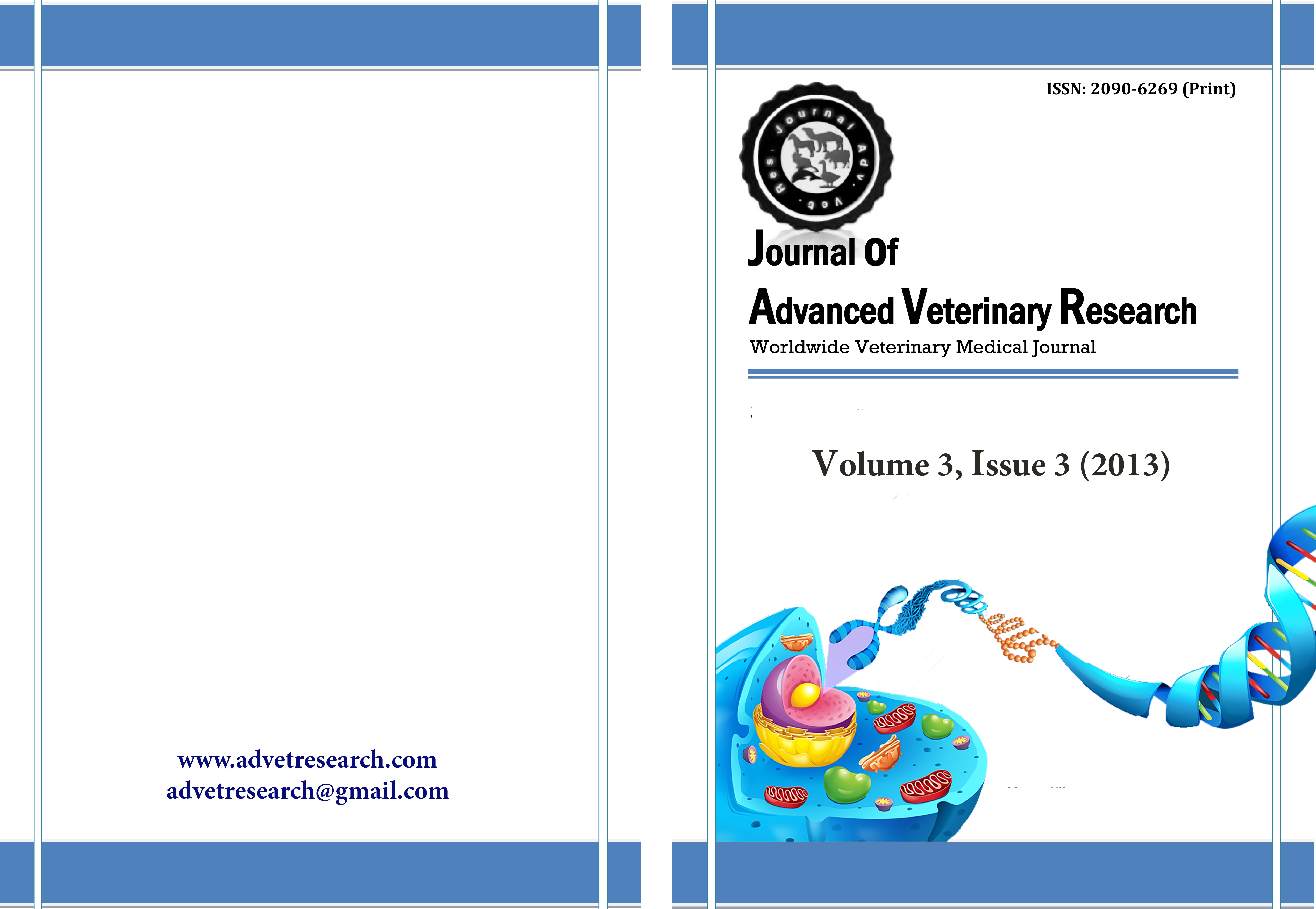 Downloads
How to Cite
M.T., M., A.A.R., K., H.I., E., & A.M., A. (2013). Studies on the Immunostimulatory Effect of Propolis in Diarrheic Buffalo Calves. Journal of Advanced Veterinary Research, 3(3), 114-117. Retrieved from https://advetresearch.com/index.php/AVR/article/view/128
Section
Original Research
License
Users have the right to read, download, copy, distribute, print, search, or link to the full texts of articles under the following conditions: Creative Commons Attribution-NonCommercial-NoDerivatives 4.0 International (CC BY-NC-ND 4.0).
For more information: