Safety and Tissue Residue Determination of Gatifloxacin in Broiler Chicken
Keywords:
Chicken; biomarkers; chicken
Abstract
Gatifloxacin is a fluoroquinolone having broad-spectrum activity and good antibacterial activity at low plasma/tissue concentration. The present study was designed to investigate safety of gatifloxacin (10 mg/kg body weight) after repeated oral administration at 12 hours interval for 14 days in broiler chickens and to determine tissue concentration of the drug following oral administration (10 mg/kg body weight) for 5 days. Repeated oral administration of gatifloxacin in broiler chickens was found safe based on evaluation of hematological (Hb, PCV and TLC), biochemical (AST, ALT, ALP, LDH, Serum uric acid, Serum Creatinine, Blood glucose and Total bilirubin) and histopathology of liver, kidney, heart and joint cartilage. Drug concentration in tissue was determined using High Performance Liquid Chromatography (HPLC). The concentration of gatifloxacin was found 0.75 ± 0.04 µg/g after fourth dose and 0.22 ± 0.07 µg/g after tenth dose respectively in liver, whereas in skeletal muscles the concentration of gatifloxacin was below the limit of quantification after fourth dose and after tenth dose gatifloxacin was not detected.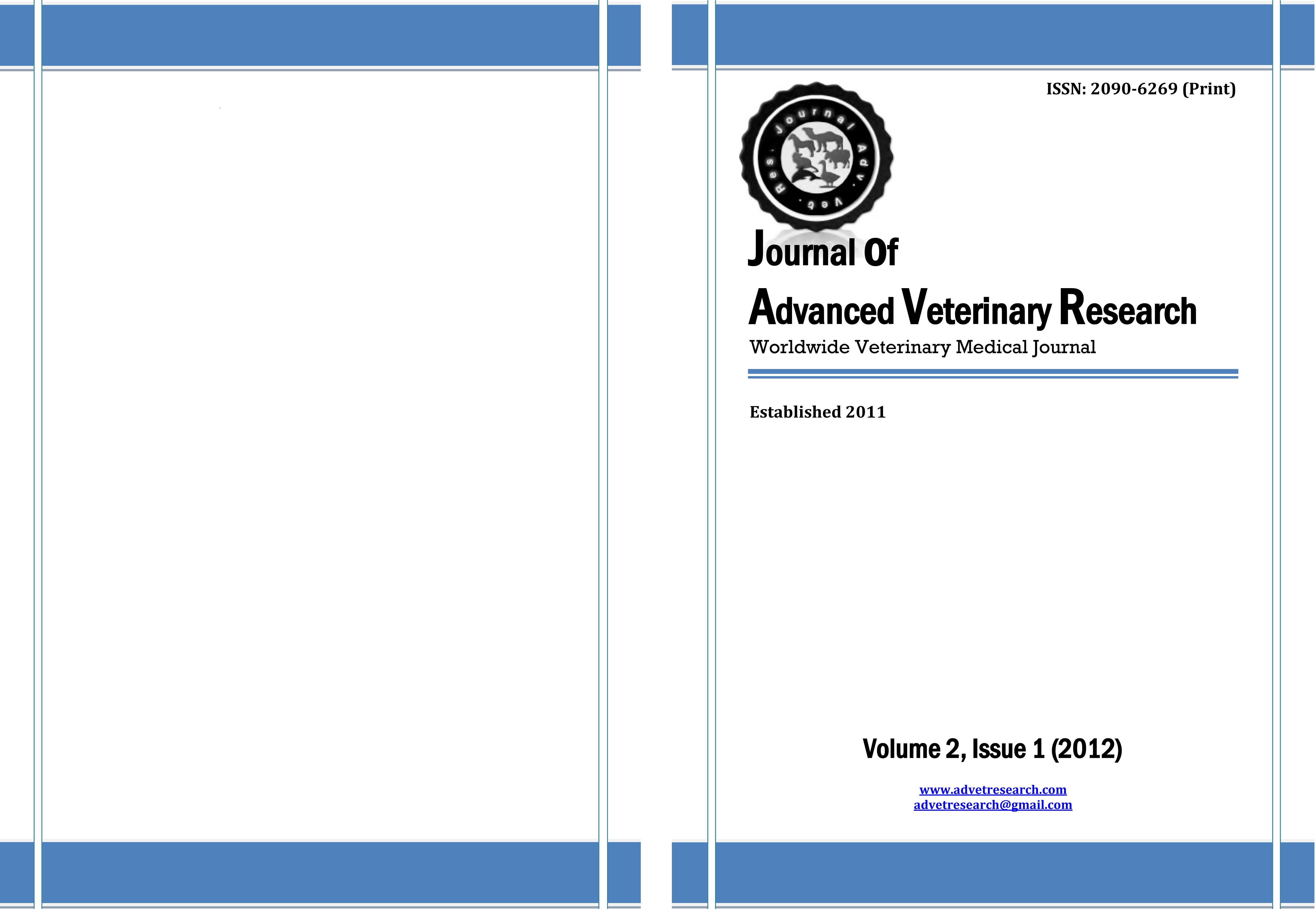 Downloads
How to Cite
Safety and Tissue Residue Determination of Gatifloxacin in Broiler Chicken. (2012). Journal of Advanced Veterinary Research, 2(1), 9-14. Retrieved from https://advetresearch.com/index.php/AVR/article/view/146
Section
Original Research
License
Users have the right to read, download, copy, distribute, print, search, or link to the full texts of articles under the following conditions: Creative Commons Attribution-NonCommercial-NoDerivatives 4.0 International (CC BY-NC-ND 4.0).
For more information: