Dietary Administration of Yeast β 1,3 1,6 Glucan on Immunity and Survival Rate of White Indian Shrimp, Fennerpenaeus indicus Challenged with White Spot Syndrome Disease
Babak Ghaednia

Maryam Mirbakhsh

Issa Sharifpour

Mohammad Reza Mehrabi

Vahid Yeghaneh

Shakib Shamsiyan
Abstract
The potency of dietary β 1,3 1,6 glucan (BG), derived from Saccharomyces cerevisiae, in stimulating the non-specific immunity of white Indian shrimp, Fennerpenaeus indicus (Milne-Edwards, 1837) and improving its resistance to white spot syndrome disease were investigated. F. indicus (11.32±1.20 g) were fed for 20 days on a series of treatment diets containing graded levels of BG (blank control, 0 as control, 2, 10, 20 g kg-1 feed) and were then challenged by injection of WSSV virus. Total haemocyte count (THC), total plasma protein (TPP), phagocytic activity (PA) and Bacterial Clearance activity (BC) were measured at days 0, 7, 14, 21 after BG feeding, and shrimp survival rate was also recorded daily after challenge. THC, TPP, PA and BC of the 10 and 20 g kg-1 BG treatments were significantly higher (P<0.05) by day 14 than control and 2 g kg-1 treatment shrimp. Survival rate of shrimp fed with the diet containing 10 and 20 g kg-1 BG after 21 days, were 53.32±5.77 and 48.32±5.77%, respectively. Accordingly, oral administration of BG at an optimal level of 10 g kg-1 diet for 20 days efficaciously stimulate the immune defense and improve the survival rate of WSV-infected F. indicus.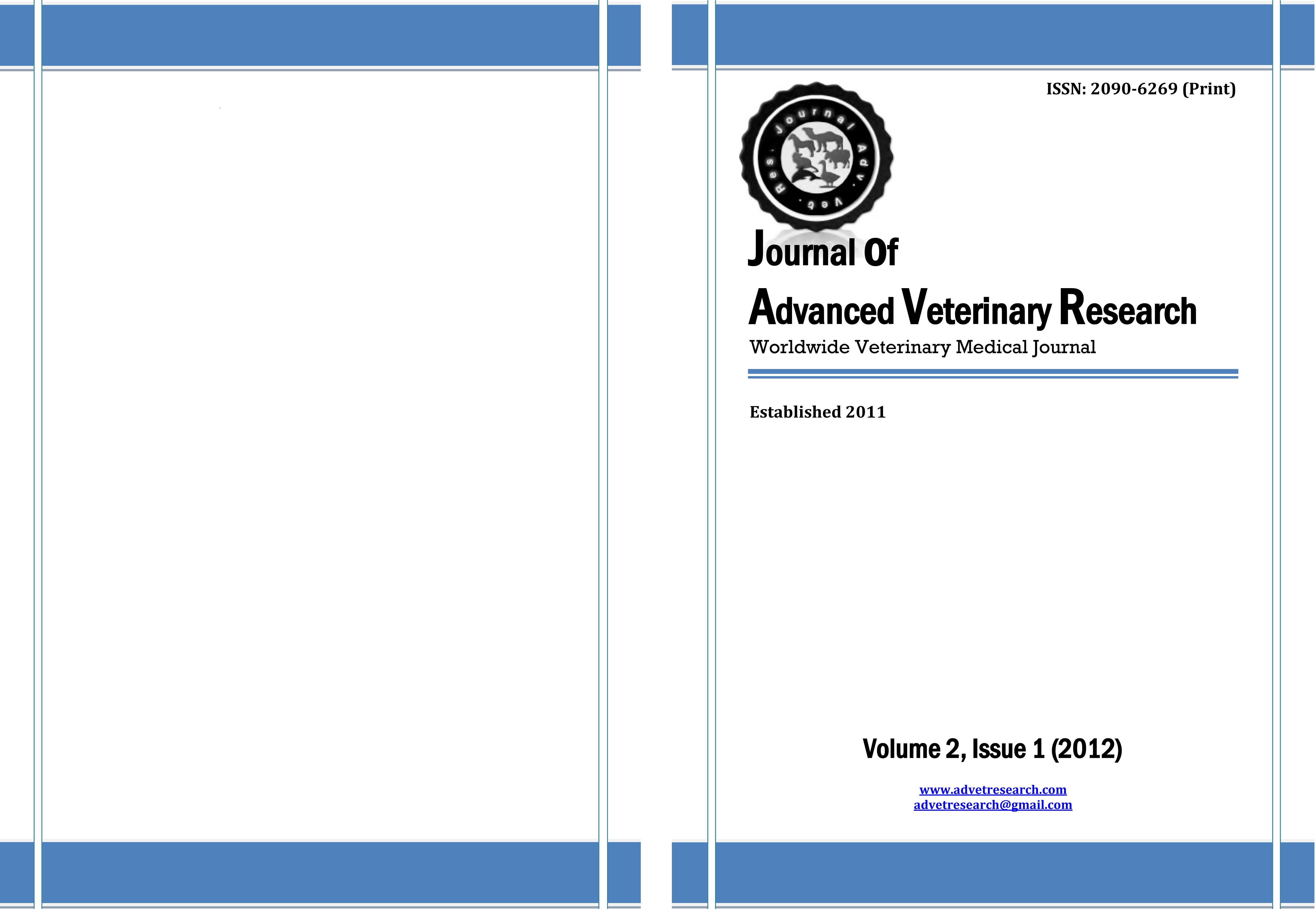 How to Cite
GHAEDNIA, Babak et al. Dietary Administration of Yeast β 1,3 1,6 Glucan on Immunity and Survival Rate of White Indian Shrimp, Fennerpenaeus indicus Challenged with White Spot Syndrome Disease.
Journal of Advanced Veterinary Research
, [S.l.], v. 2, n. 1, p. 24-31, jan. 2012. ISSN 2090-6277. Available at: <
https://advetresearch.com/index.php/AVR/article/view/149
>. Date accessed: 10 apr. 2020.
Section
Original Research
Users have the right to read, download, copy, distribute, print, search, or link to the full texts of articles under the following conditions: Creative Commons Attribution-NonCommercial-NoDerivatives 4.0 International (CC BY-NC-ND 4.0).
For more information: