Estimation of Total Saponins and Evaluate Their Effect on in vitro Methanogenesis and Rumen Fermentation Pattern in Wheat Straw Based Diet
Navneet Goel

Sunil Kumar Sirohi

Jaya Dwivedi
Abstract
The present experiment was carried out to estimate the total saponins and evaluate their effect on methanogenesis and rumen fermentation by in vitro gas production techniques. Three plant material, rough chaff tree seed (Achyranthus aspara, T1), gokhru seed (Tribulus terrestris, T2) and Siris seed (Albizia lebbeck, T3) were selected for present study. The total saponins content in T1, T2 and T3 were 45.75, 25.65 and 48.26% (w/w), respectively. Three levels of each saponins (3, 6 and 9% on DM basis) and wheat straw based (50R:50C) medium fiber diet (200±10 mg) were used for the evaluation of their effect on methanogenesis and rumen fermentation pattern. Results showed the maximum methane reduction (49.66% in term of mM/gDDM) and acetate propionate ration (35.08%) were found in T1 at 6 and 3% levels. Result show that propionate production (mM/ml) was increased; protozoa population decreased (75%) significantly on addition with T3 at 6% level. No significant variation was found in dry matter digestibility in all cases. The present results demonstrate that total saponins extracted from different herbal plants are a promising rumen modifying agent. They have the potential to modulate the methane production, dry matter digestibility and microbial biomass synthesis.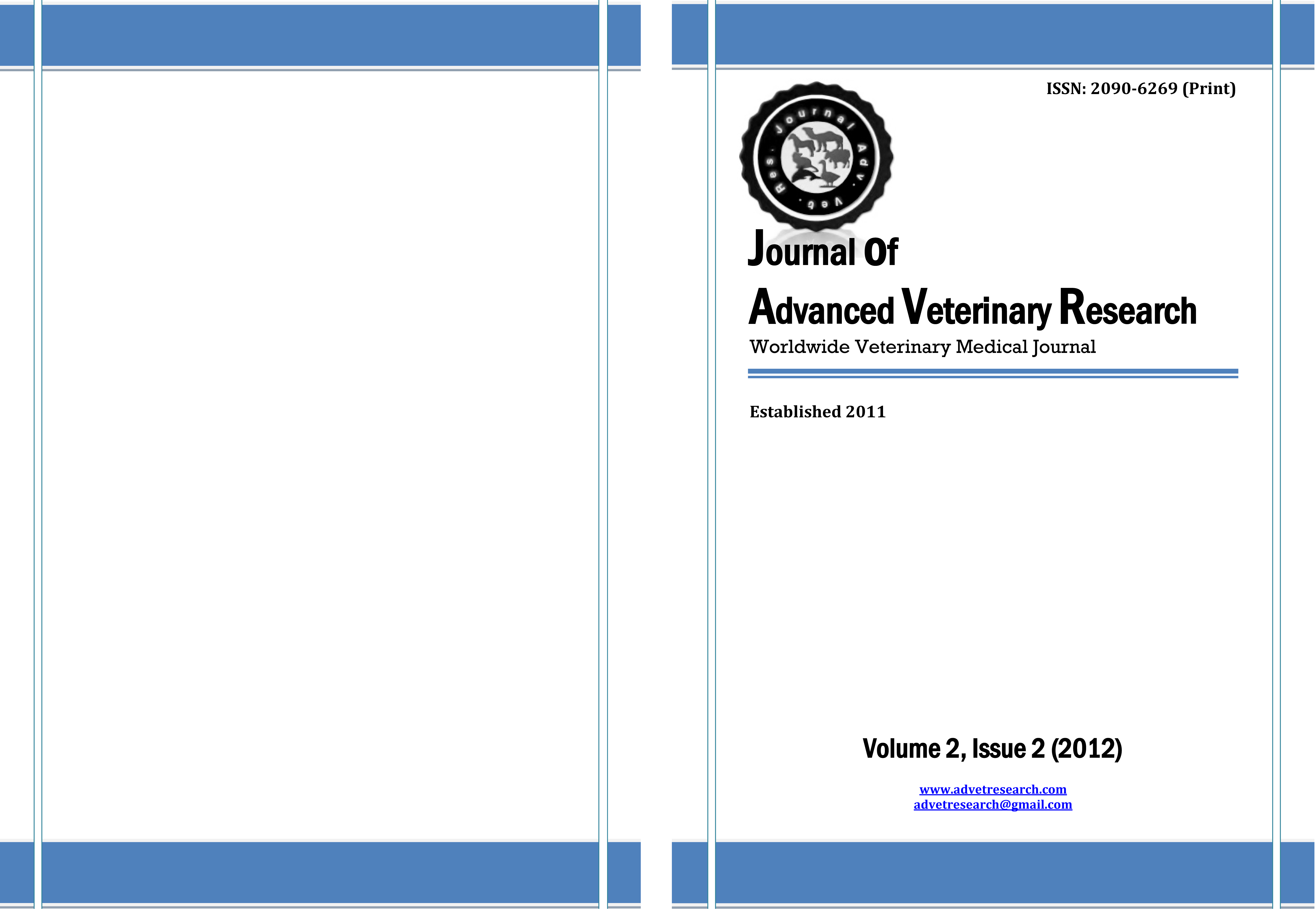 How to Cite
GOEL, Navneet; SIROHI, Sunil Kumar; DWIVEDI, Jaya. Estimation of Total Saponins and Evaluate Their Effect on in vitro Methanogenesis and Rumen Fermentation Pattern in Wheat Straw Based Diet.
Journal of Advanced Veterinary Research
, [S.l.], v. 2, n. 2, p. 120-126, apr. 2012. ISSN 2090-6277. Available at: <
https://advetresearch.com/index.php/AVR/article/view/168
>. Date accessed: 18 july 2019.
Section
Original Research
Users have the right to read, download, copy, distribute, print, search, or link to the full texts of articles under the following conditions: Creative Commons Attribution-NonCommercial-NoDerivatives 4.0 International (CC BY-NC-ND 4.0).
For more information: