Effect of Seminal Plasma Removal on Cell Membrane, Acrosomal Integrity and Mitochondrial Activity of Cooled Stallion Semen
Dhafer M. Aziz

Heinrich Enbergs
Abstract
Fresh semen samples were collected from 11 warm blood stallions, each ejaculate was distributed into three equal parts. The first part was diluted in a skim milk-glucose diluent (SMG), the second part was diluted in a skim milk-glucose supplemented with Tyrode's medium (SMG-T), the third part was centrifuged to remove the seminal plasma, then the sperm was resuspended in the second diluent (SMG-T-C). The diluted semen were evaluated immediately after dilution (0 hour) and at 24, 48, 72, and 96 hours of storage at 5°C. Flow cytometry was performed to determine sperm viability, mitochondrial activity and acrosomal integrity. Immediately after dilution the tested parameters of sperms that diluted in SMG-T was significantly (P<0.001) higher than those diluted with SMG and SMG-T-C, and with SMG-T-C were higher significantly (P<0.05) than those diluted with SMG. The decreasing rate in tested sperm parameter was greater significantly (P<0.001) in semen samples which were diluted with SMG than those diluted with SMG-T and SMG-T-C. In conclusion, the present study indicated that viability, acrosomal integrity, and mitochondrial activity of stallion sperms were better preserved in SMG-T in comparison with SMG, also centrifugation and removal of the seminal plasma have an adverse effect on these three sperm parameters.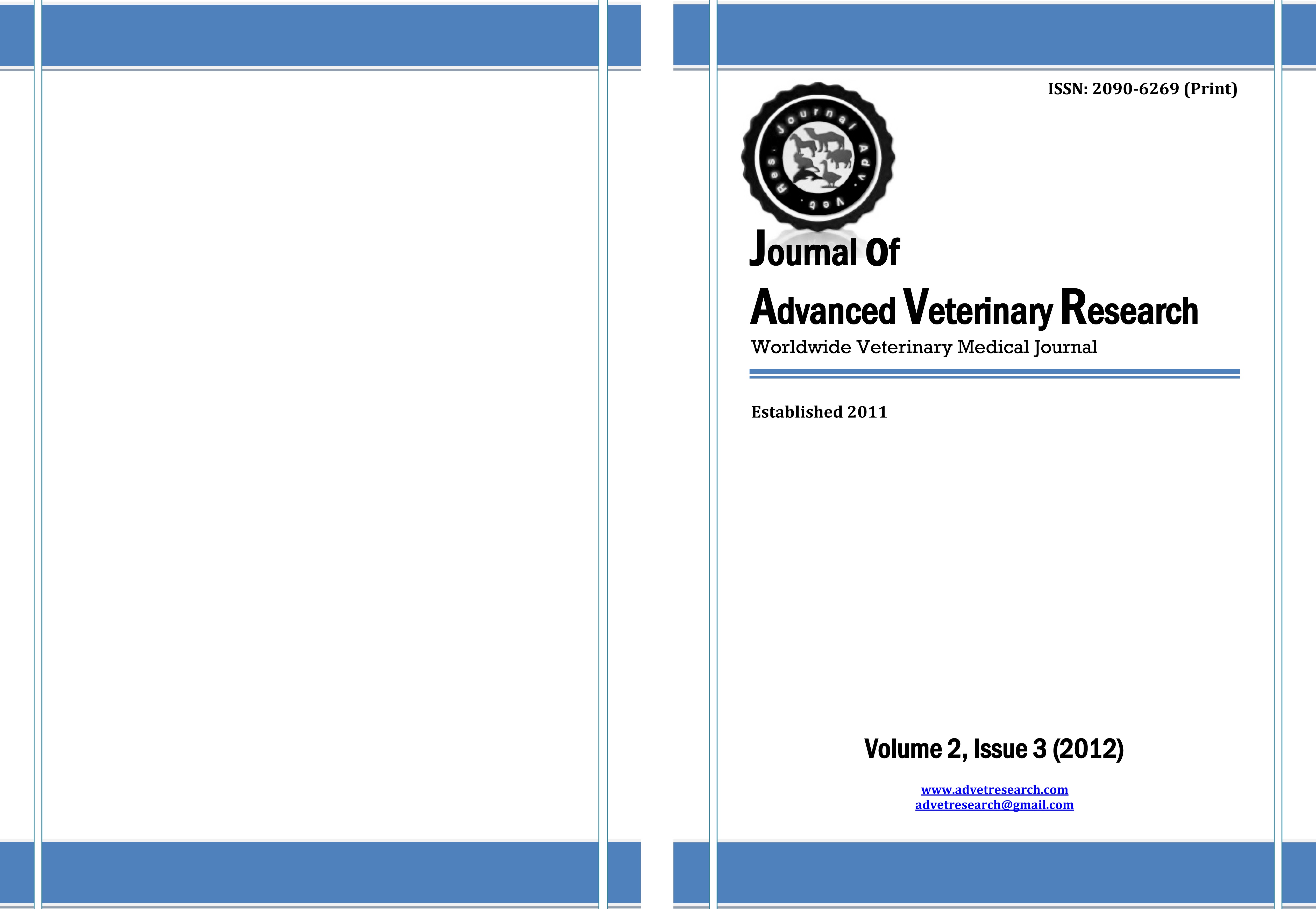 How to Cite
AZIZ, Dhafer M.; ENBERGS, Heinrich. Effect of Seminal Plasma Removal on Cell Membrane, Acrosomal Integrity and Mitochondrial Activity of Cooled Stallion Semen.
Journal of Advanced Veterinary Research
, [S.l.], v. 2, n. 3, p. 148-152, july 2012. ISSN 2090-6277. Available at: <
https://advetresearch.com/index.php/AVR/article/view/171
>. Date accessed: 24 apr. 2019.
Section
Original Research
Users have the right to read, download, copy, distribute, print, search, or link to the full texts of articles under the following conditions: Creative Commons Attribution-NonCommercial-NoDerivatives 4.0 International (CC BY-NC-ND 4.0).
For more information: