Epidemiology and Diagnosis of Feline Intestinal Lymphosarcomas in Egypt
Keywords:
Lymphosarcoma; FeLV; cat; diagnosis; Egypt
Abstract
Feline intestinal lymphosarcomas are mostly caused by Feline Leukemia Virus (FeLV). Unfortunately, there is no available vaccine for FeLV in Egypt. The diagnosis of feline intestinal lymphosarcomas depends upon abdominal palpation, x-rays examination, ultrasonography, direct ELISA and histopathology of masses excised during laparotomy. The recorded clinical signs in intestinal lymphosarcoma affected cats were variable including vomiting, fever, anorexia, ascites, anemia, dyspnea, constipation and emaciation. The affected lymph nodes were mesenteric, mediastinal and retropharyngeal. The prevalence of intestinal lymphosarcomas in the examined cats was 4.03 % (11 out of 273 cats). The prevalence was higher in queens than toms (2.93 % and 0.73 % respectively). The Siamese cats had higher prevalence than the Sherazy ones (2.56 % and 1.47 % respectively). X-ray films and ultrasonographic images performed on the eleven cats suffered from intestinal lymphosarcomas revealed ascities and abdominal masses. The comparison of ELISA and histopathology (of excised masses) results showed that 9 out of 11 intestinal lymphosarcoma affected cats were infected with FeLV that proved not all cases of intestinal lymphosarcoma were caused by FeLV. The sensitivity, specificity and accuracy of ELISA to diagnose intestinal lymphosarcoma in cats were 81.81 %, 100 % and 92 % respectively. Gross autopsy of the collected lymph nodes, livers, kidneys revealed that gross lymphadenopathy involving one or more nodes, hepatomegaly and kidney enlargement. Microscopically, the examined tissues specimens showed that the normal architecture of the examined lymph nodes, livers, and kidneys has been replaced by a diffuse infiltrate of both lymphocytes and lymphoblasts. The vast majority of the cells are small lymphocyte-type cells with round basophilic nuclei and a sparse rim of cytoplasm. The eleven intestinal lymphosarcoma affected cats exposed to abdominal exploratory surgery (laparotomy) died at one to three months post-surgery. It is concluded that the vaccination of kittens and cats against FeLV in Egypt is very important to prevent the highly fatal intestinal lymphosarcomas.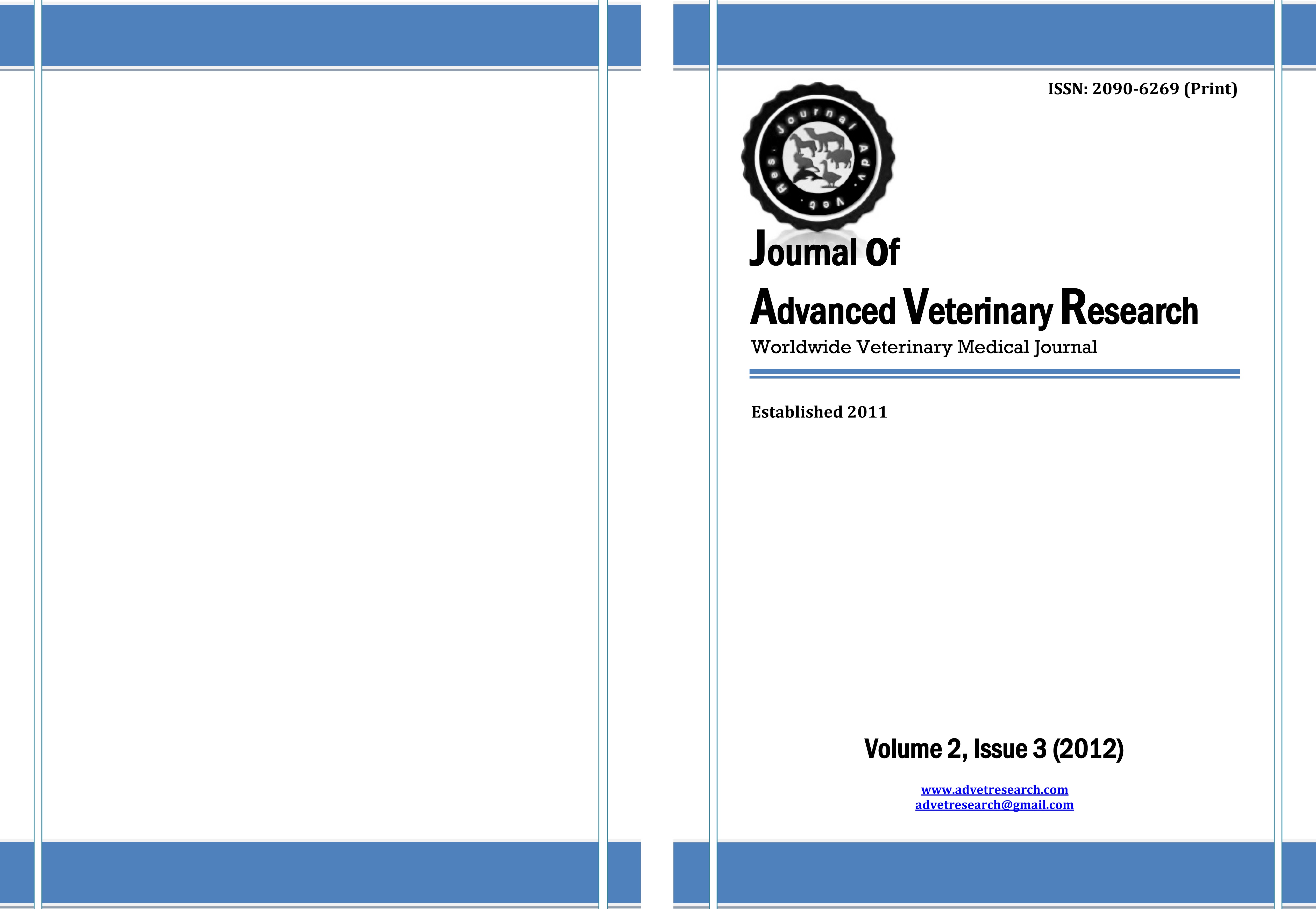 Downloads
How to Cite
Salib, F. A., Farg, H. A., & Elgayed, S. S. (2012). Epidemiology and Diagnosis of Feline Intestinal Lymphosarcomas in Egypt. Journal of Advanced Veterinary Research, 2(3), 160-168. Retrieved from https://advetresearch.com/index.php/AVR/article/view/174
Section
Original Research
License
Users have the right to read, download, copy, distribute, print, search, or link to the full texts of articles under the following conditions: Creative Commons Attribution-NonCommercial-NoDerivatives 4.0 International (CC BY-NC-ND 4.0).
For more information: