Haemato-biochemical Response to Lignocaine alone or in Combination with Xylazine for Epidural Analgesia in Cow Calves
Abstract
The present study was undertaken to evaluate the effect of local analgesic (lignocaine) alone or in combination with
alpha-2 adrenergic agonist (xylazine) on haemato-biochemical parameters. The study was conducted on 12 healthy male cow
calves, which were divided into two equal groups (group A and group B), and induced into two equal quantity of lignocaine
alone (group A) or in combination with xylazine (group B). Haematological and biochemical parameters were measued before
and at 15, 30, 60, 90, 120, 240 minutes and 24 hours intervals after administration of drugs. No significant changes were observed
in animals of the group A, except the significant increase (P <0.01) in serum glucose concentration from 30 to 120
minutes intervals. In group B, a significant decrease in haemoglobin concentration and packed cell volume was observed after 30 minutes, which persisted up to 120 minutes interval as compared to base value. There was a significant decrease in total leucocytes count at 60 minutes interval and a significant increase in neutrophils percent and simultaneous decrease in lymphocytes percent between 60 to 120 minutes intervals. In addition, a significant (P <0.01) increase in serum glucose concentration from 30 to 240 minutes intervals was observed. The decrease in serum total proteins (P <0.05), and the increase in blood urea nitrogen and creatinine (P <0.05) levels, and in ALT and AST (P <0.01) activities were significant between 60 to 120 minutes intervals. The values were returned to normalcy by 24 hours in both groups. Thus, epidural xylazine along with local anaesthetic can be safely used in cow calves as it caused transient haemato-biochemical alterations.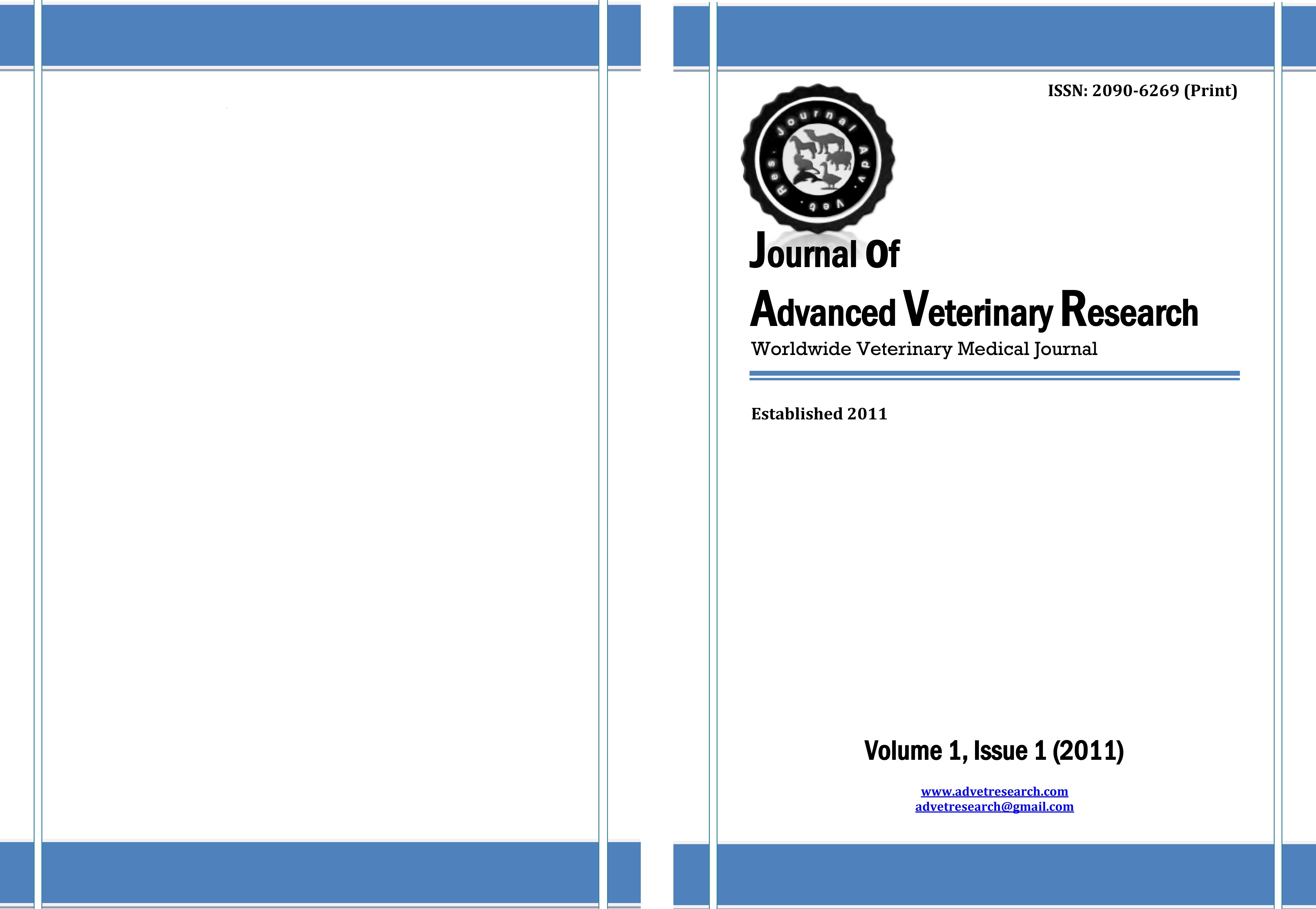 Downloads
How to Cite
Moulvi, B. A., Parrah, J. D., Kalim, M. O., Athar, H., & Dedmari, F. H. (2011). Haemato-biochemical Response to Lignocaine alone or in Combination with Xylazine for Epidural Analgesia in Cow Calves. Journal of Advanced Veterinary Research, 1(1), 17-20. Retrieved from https://advetresearch.com/index.php/AVR/article/view/209
Section
Original Research
License
Users have the right to read, download, copy, distribute, print, search, or link to the full texts of articles under the following conditions: Creative Commons Attribution-NonCommercial-NoDerivatives 4.0 International (CC BY-NC-ND 4.0).
For more information: