Effects of Probiotic on Comfort and Body Care Behaviors of Broilers Reared at Different Stocking Densities
Abstract
This study was conducted to investigate the effect of probiotic on comfort and body care behaviors of broilers reared at two different densities. Two hundred and forty chicks were subdivided into four groups, two groups were reared under low stocking density (LSD); 10 bird/m2 and another 2 groups were reared under high stocking density (HSD); 15 bird/m2. In each density, one group was supplemented with probiotic in the drinking water and the other was not supplemented. Normal behavior of birds was recorded throughout the growing cycle twice a week, using video camera (Sony, Japan). Then after, comfort (standing, lying and sleeping), body care (preening, dust bathing, wing/leg stretching and head scratching) and aggressive behaviors of birds were analyzed. HSD reduced comfort behavior compared to low density without probiotic group. Standing frequency was significantly increased at the 6th week of the growing cycle. In addition, interrupted lying bouts frequency was increased and the non-interrupted lying bouts (frequency and duration) were decreased significantly. Moreover, preening frequency was decreased. However, aggressive behavior was not observed in all groups. Probiotic supplementation didn't alter comfort, aggressive and body care behaviors of broilers at both densities in comparison to low density without probiotic group. However, birds stocked at high stocking density and supplemented with probiotic showed no alterations in all behavioral patterns compared to HSD group without probiotic supplementation. Data suggested that the used probiotic in this study was unable to improve comfort and body care behaviors of broilers reared at low stocking density and failed to alleviate impacts of high density stress on these behaviors.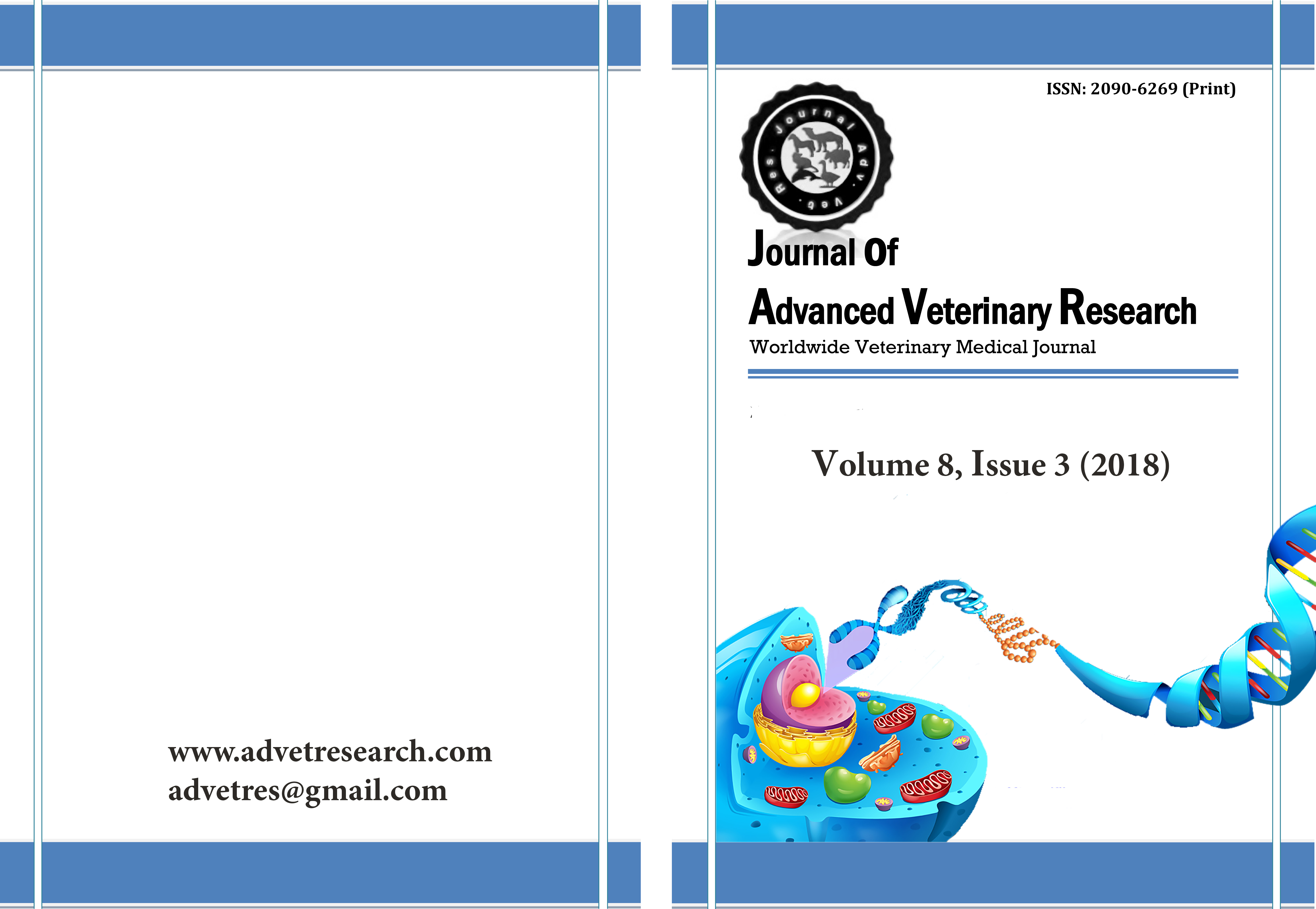 Downloads
How to Cite
Ibrahim, R. R., Khalil, F., Mostafa, A. S., & Emeash, H. H. (2018). Effects of Probiotic on Comfort and Body Care Behaviors of Broilers Reared at Different Stocking Densities. Journal of Advanced Veterinary Research, 8(3), 60-65. Retrieved from https://advetresearch.com/index.php/AVR/article/view/307
Section
Original Research
License
Users have the right to read, download, copy, distribute, print, search, or link to the full texts of articles under the following conditions: Creative Commons Attribution-NonCommercial-NoDerivatives 4.0 International (CC BY-NC-ND 4.0).
For more information: