Diagnostic and Prognostic Significance of Lipid Profiles in Holstein Dairy Cattle with Displaced Abomasum: Before and After Surgical Operation
Arafat Khalphallah

Ahmad A. Aamer

Shin Oikawa

Ken Nakada

Tharwat AbdelAll

Haduki Katoh

Enas Elmeligy
Abstract
The study aimed to describe the pattern of changes in clinical findings and lipid metabolism profiles in dairy cattle with displacement of the abomasum (DA) from day 0 until day 30 after operation. The study was conducted on DA cattle (n= 25) belonged to dairy farms in Hokkaido area, Japan. Cows were examined and sampled at days 0 (operation), 7 and 30. They were clinically and biochemically examined to estimate BCS and many serum biochemical constituents such as lecithin:cholesterol acyltransferase (LCAT) and apolipoprotein B-100 (apoB-100), β-hydroxybutyric acid (BHBA), non-esterified fatty acids (NEFAs) and aspartate amino transferase (AST). Based on blood BHBA at day 0, DA cows were classified into three categories; DA only (<1.2 mmol/l), DA with subclinical ketosis (DA SCK) (1.2-2.4 mmol/l) and DA with clinical ketosis (DA CK) (≥2.5 mmol/l). The changes in the pattern of serum biochemical constituents throughout this study indicated recovery of diseased cows and significant effect of surgical operation. Serum biochemical constituents returned to their physiological values indicating that these cows were restoring their normal physiological status. This was reflected through a significant (P<0.05) elevation of LCAT, apoB-100, and cholesterol and a significant (P<0.05) reduction in AST, NEFAs and BHBA (Not in DA group), in all DA groups particularly at day 30 when their values compared with those at day 0. The current study also recorded no remarkable changes (P>0.05) between the diseased groups except for NEFA and BHBA (at day 0 between DA group and the other two groups) at any of the three sampling days.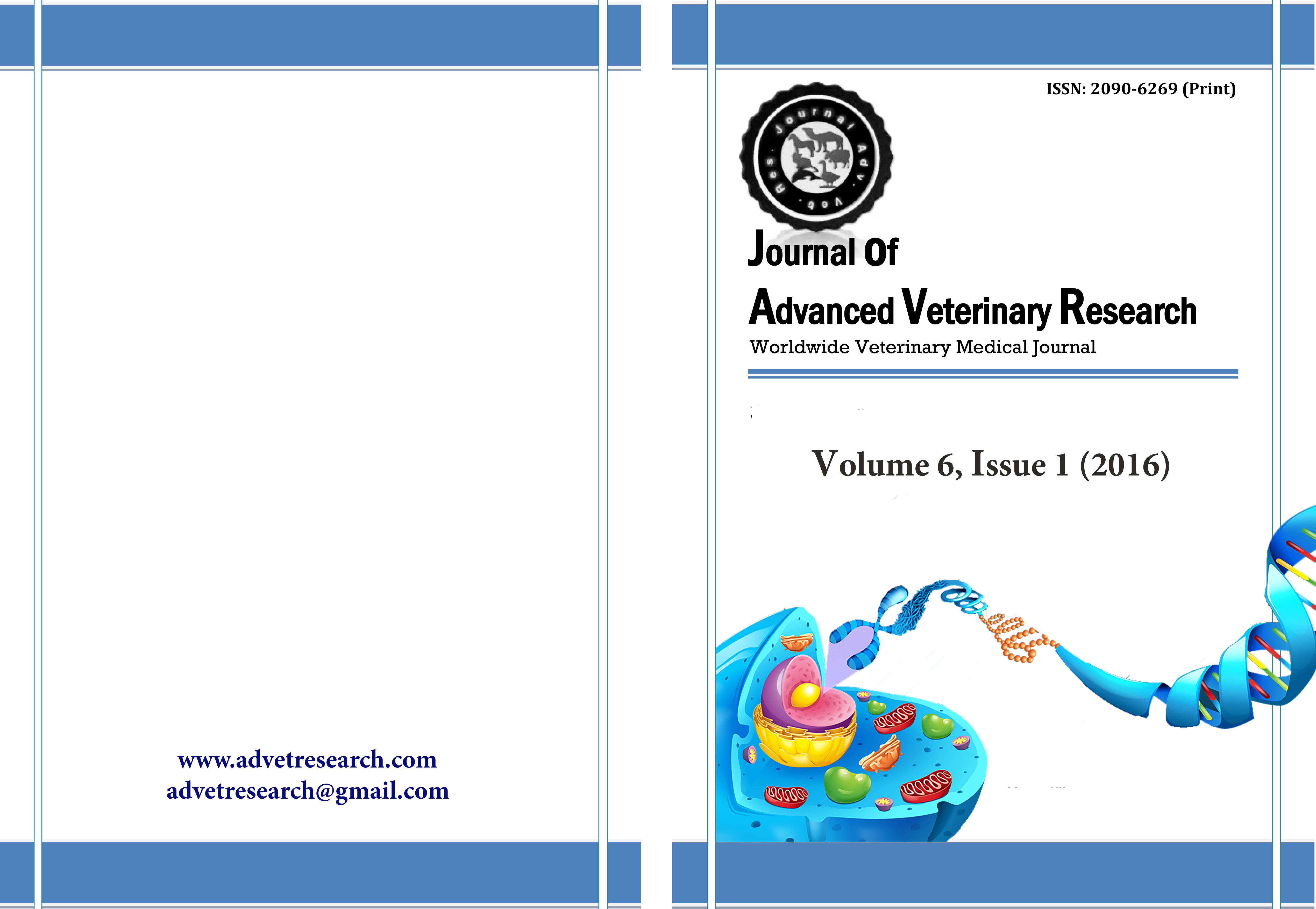 How to Cite
KHALPHALLAH, Arafat et al. Diagnostic and Prognostic Significance of Lipid Profiles in Holstein Dairy Cattle with Displaced Abomasum: Before and After Surgical Operation.
Journal of Advanced Veterinary Research
, [S.l.], v. 6, n. 1, p. 7-17, jan. 2016. ISSN 2090-6277. Available at: <
https://advetresearch.com/index.php/AVR/article/view/32
>. Date accessed: 16 sep. 2019.
Section
Original Research
This work is licensed under a Creative Commons Attribution-NonCommercial-NoDerivatives 4.0 International License.
Users have the right to read, download, copy, distribute, print, search, or link to the full texts of articles under the following conditions: Creative Commons Attribution-NonCommercial-NoDerivatives 4.0 International (CC BY-NC-ND 4.0).
For more information: