Morphological and Molecular characterization of Sarcocystis arieticanis from the Heart Muscles of Domestic sheep, Ovis aries, in Qena, Upper Egypt
Abstract
            This study examined Sarcocystis spp., cyst forming coccidians whose intermediate hosts include sheep, an important source of meat in Egypt. Samples of heart muscles were collected from 110 sheep from different localities in Qena, Upper Egypt, and examined for Sarcocystis spp. by macroscopic evaluation, light microscopy, transmission electron microscopy, and molecular tests. All the sarcocysts found [in 52 of 110 sheep (47.27 %)] were thin-walled (0.32–0.44 µm) and measured  78.56–146 µm in length and 33.12–73 µm in width . The cyst walls possessed irregularly branched protrusions (0.67–1.4 µm × 0.05–0.26 µm) with rounded vesicles at their base that were underlin by a thin layer of ground substance (0.14–0.26 µm). Septa derived from the ground substance divided the cysts into many compartments that contained cystozoites of different developmental stages and fully formed banana-shaped bradyzoites, for which descriptions are provided based on transmission electron microscopy. Comparison of  the  18S rRNA sequence of the sarcocysts against those of previously identified species in mammals deposited in GeneBank was performed. The phylogenetic tree clustered the Sarcocystis specimens in this study within the S. arieticanis clade. In addition, the macroscopic Sarcocystis  spp. (S. moulei and S. gigantea) aggregated together at some distance from the microscopic Sarcocystis spp. (S.capracanis, S. hiricicanis, S. tenella, and S. arieticanis) regardless of differences in the intermediate host, indicating the importance of Sarcocystis cyst size as a characteristic taxonomic feature.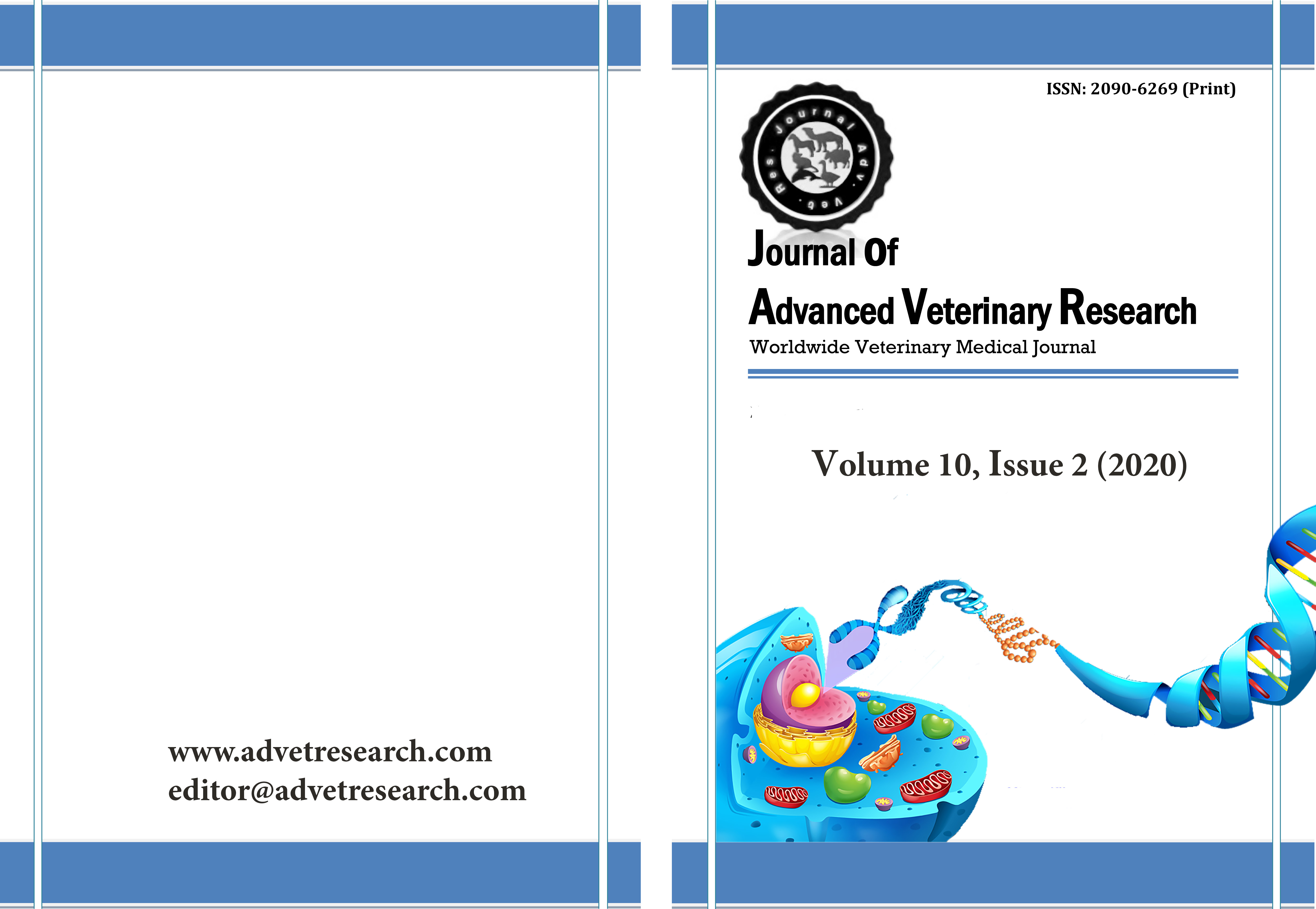 How to Cite
Hussein, N. M. (2020). Morphological and Molecular characterization of Sarcocystis arieticanis from the Heart Muscles of Domestic sheep, Ovis aries, in Qena, Upper Egypt. Journal of Advanced Veterinary Research, 10(2), 73-80. Retrieved from https://advetresearch.com/index.php/AVR/article/view/437
Section
Original Research
License
Users have the right to read, download, copy, distribute, print, search, or link to the full texts of articles under the following conditions: Creative Commons Attribution-NonCommercial-NoDerivatives 4.0 International (CC BY-NC-ND 4.0).
For more information: