The Susceptibility of Japanese Quails to the Infection with Chicken Originated NewCastle Disease Virus
Keywords:
Chicken Newcastle disease Quails
Abstract
Newcastle disease virus (NDV) caused an outbreak among commercial broiler chickens in the educational farm of Faculty of Agriculture, Assiut University-Egypt. Its velogenicty was characterized by Intracerebral pathogenicity index (ICPI) of 1.65. The outbreak raised concerns regarding the role of quails as a neighboring bird to the broiler chickens in the affected farm in transmission of this virus to chickens. 35 days old quails were infected oculo-nasal with velogenic strain of Newcastle disease virus accompanied with chickens were in contact with these infected quails to determine the role of quails in the epidemiology of ND infection. Hemagglutination inhibition (HI) antibodies were measured for assessment of antibody response as well as oro-pharynx swabs were used for detection of the virus shedding. The susceptibility of quails to NDV infection was more resistant than that were observed in chickens. 6.6-13.3% of challenged non-vaccinated quails were died in contrast to 80-100% mortality in experimentally infected chickens till the end of experiment 3 weeks after challenge. Up to 13.3% of infected quails exhibited general clinical signs in contrast to 100% of non vaccinated chickens shown clinical signs were primarily respiratory. Infected quails could excrete infectious virus from the oro-pharynx for a shorter period than that observed with infected in-contact chickens in special to the vaccinated groups the shedding was reduced significantly either in quails and chickens. The results confirmed that some of the naturally occurring NDV virulent strains can cause the disease in quails but in a mild form, and that quails play an important role in the epidemiology of ND and its transmission to chickens causing heavy economic losses. These results under- score the need to develop new vaccine strategies for use in quails to protect birds from both disease and infection to reduce virus shedding and its spreading.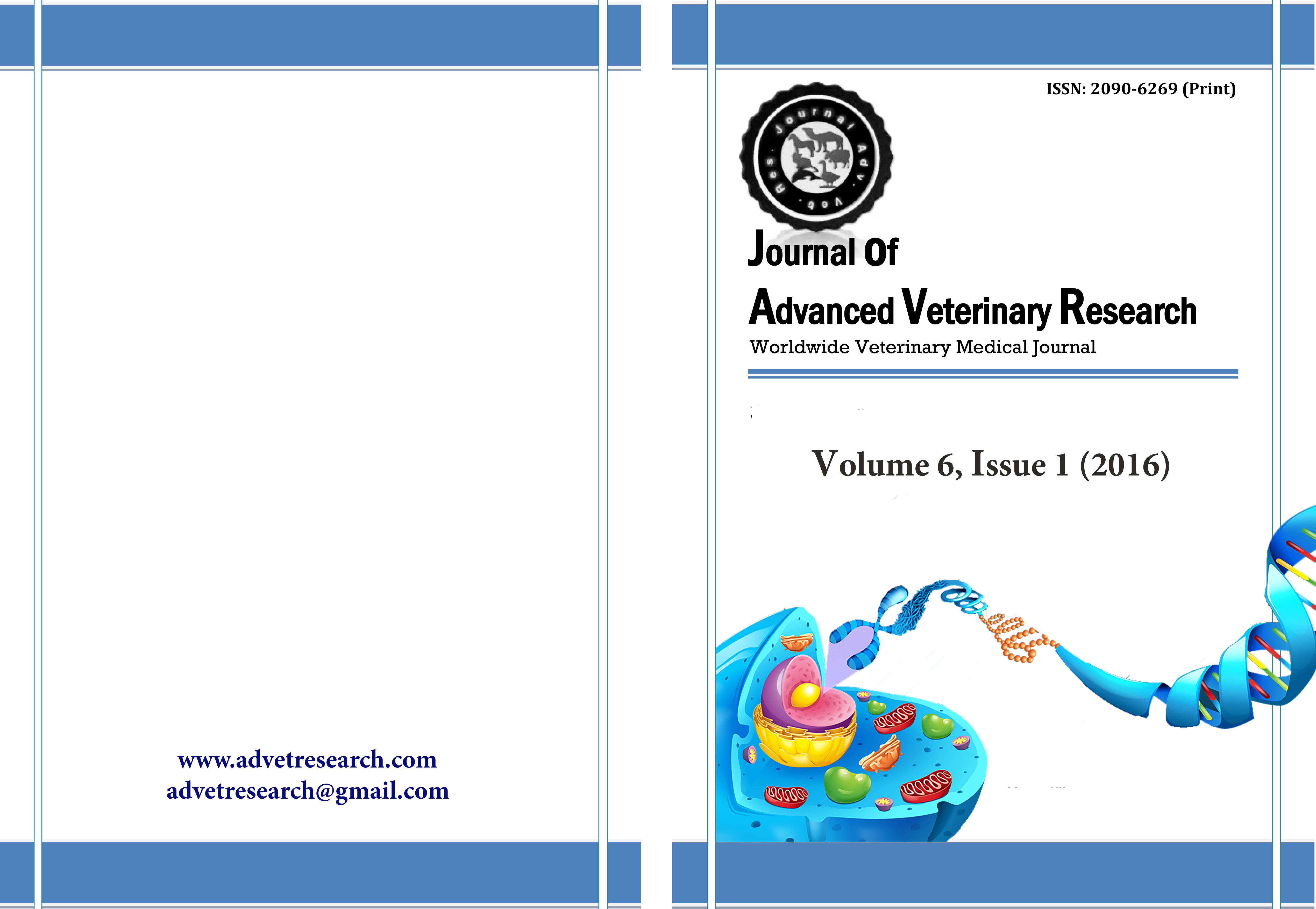 Downloads
How to Cite
Mohamed, M. A., & Abdel Hafez, M. S. (2016). The Susceptibility of Japanese Quails to the Infection with Chicken Originated NewCastle Disease Virus. Journal of Advanced Veterinary Research, 6(1), 37-43. Retrieved from https://advetresearch.com/index.php/AVR/article/view/35
Section
Original Research
License
Users have the right to read, download, copy, distribute, print, search, or link to the full texts of articles under the following conditions: Creative Commons Attribution-NonCommercial-NoDerivatives 4.0 International (CC BY-NC-ND 4.0).
For more information: