Evaluation of The Living Escherichia coli-O78 Deleted aroA Vaccine Against Homologous and Heterologous E. coli Challenge in Broiler Chickens
Moemen A. Mohamed

Bakhit M. Bakhit

Awad A. Ibrahim

Mohamed Saleh
Abstract
To determine whether the immunization using commercially available living Escherichia coli-O78 aroA deleted vaccine (Poulvac®E. coli) is protective against APEC challenges or not. Ninety chicks were divided into six groups (15 birds/each); two groups were vaccinated at day 1 by spray and drinking routes then challenged intratracheally with homologous E. coli O78 at day 21, the other two groups were similar to the previously mentioned groups but challenged with heterologous E. coli O1 in parallel with the four challenged-vaccinated groups there were two positive control (challenged-not vaccinated) groups; one challenged with O78 and the other one with O1 at day 21 using intratacheal route. The best obtained results were recorded to the vaccinated-challenged group with the homologous strain and vaccinated by spraying method which exhibited decreases in organ lesion scores in comparison to the other groups (non-vaccinated challenged chickens and groups of chickens either homologous challenged-vaccinated through drinking water or heterologous challenged-vaccinated groups). These findings suggest that vaccine is a suitable for minimizing lesion scores against homologous challenge using spraying method that could lead to minimizing the time for treatment and cases of condemnation in processing plants.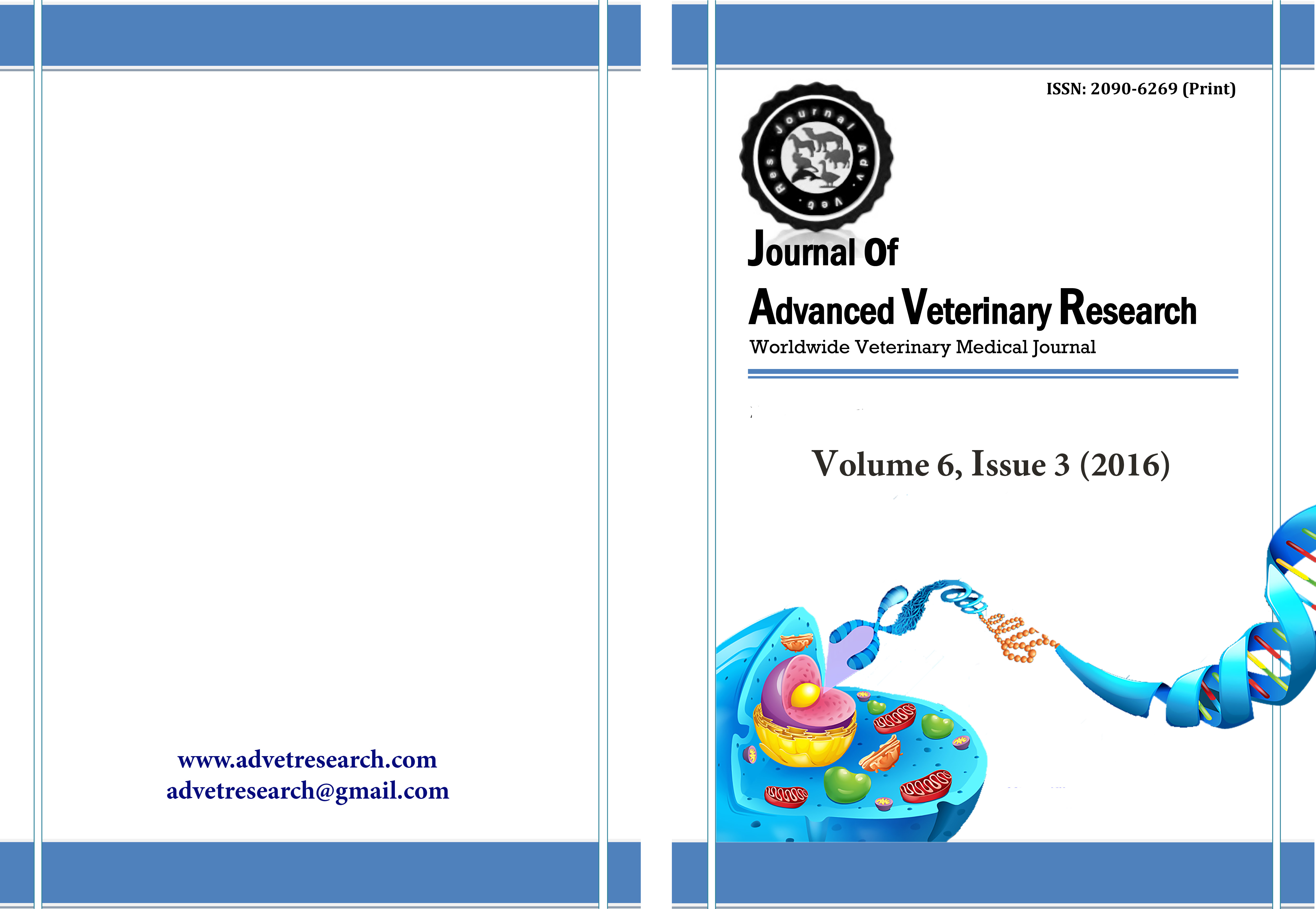 How to Cite
MOHAMED, Moemen A. et al. Evaluation of The Living Escherichia coli-O78 Deleted aroA Vaccine Against Homologous and Heterologous E. coli Challenge in Broiler Chickens.
Journal of Advanced Veterinary Research
, [S.l.], v. 6, n. 3, p. 89-92, july 2016. ISSN 2090-6277. Available at: <
https://advetresearch.com/index.php/AVR/article/view/23
>. Date accessed: 24 jan. 2020.
Section
Original Research
This work is licensed under a Creative Commons Attribution-NonCommercial-NoDerivatives 4.0 International License.
Users have the right to read, download, copy, distribute, print, search, or link to the full texts of articles under the following conditions: Creative Commons Attribution-NonCommercial-NoDerivatives 4.0 International (CC BY-NC-ND 4.0).
For more information: