Phenotypic Characterization and Temporal Evolution of Cattle Breed Diversity in Djidja, Benin
Abstract
The duration of the drought in northern Benin favours the transhumance of cattle to central and southern Benin, resulting in the sedentarization of some transhumant pastoralists. The objective of the study was to characterize the different bovine breeds phenotypically and to evaluate the evolution of the diversity of these breeds in Djidja, between 1996 and 2016. A survey was performed on 58 farmers from the 5th of January to the 22nd of February, 2017. The reared breeds and the introduced breeds have been identified and described. It appeared from this study that all breeders used zebus and zebus-taurine crossbred animals. The zebus used were the Yakana (96.5%), Goudali (32.8%), M'Bororo (5.2%) and Djeli (3.4%). The taurines used by some breeders were Borgou (8.6%) and Lagune (5.2%). The breeds that existed 20 years ago were Lagune, Yakana, Borgou, Goudali, Djeli and M'Bororo. The most widely used breeds at that time were the Lagune and Yakana breeds and the least used were the Borgou, Djeli, Goudali and M'Bororo breeds. The breeds most introduced into the herds in the last 20 years were the Goudali breed, the Yakana breed and the M'Bororo breed, then the less introduced breed is the Djeli breed. These breeds were introduced to improve the milk and meat performance of animals. The Goudali, Yakana and M'Bororo breeds have been introduced from Nigeria and Niger. As for Djeli, the breeders imported it from Niger (91.3%) and Burkina (8.7%). The disappeared breed is mainly the Lagune breed and it is necessary to implement conservation strategies for this breed in the farms.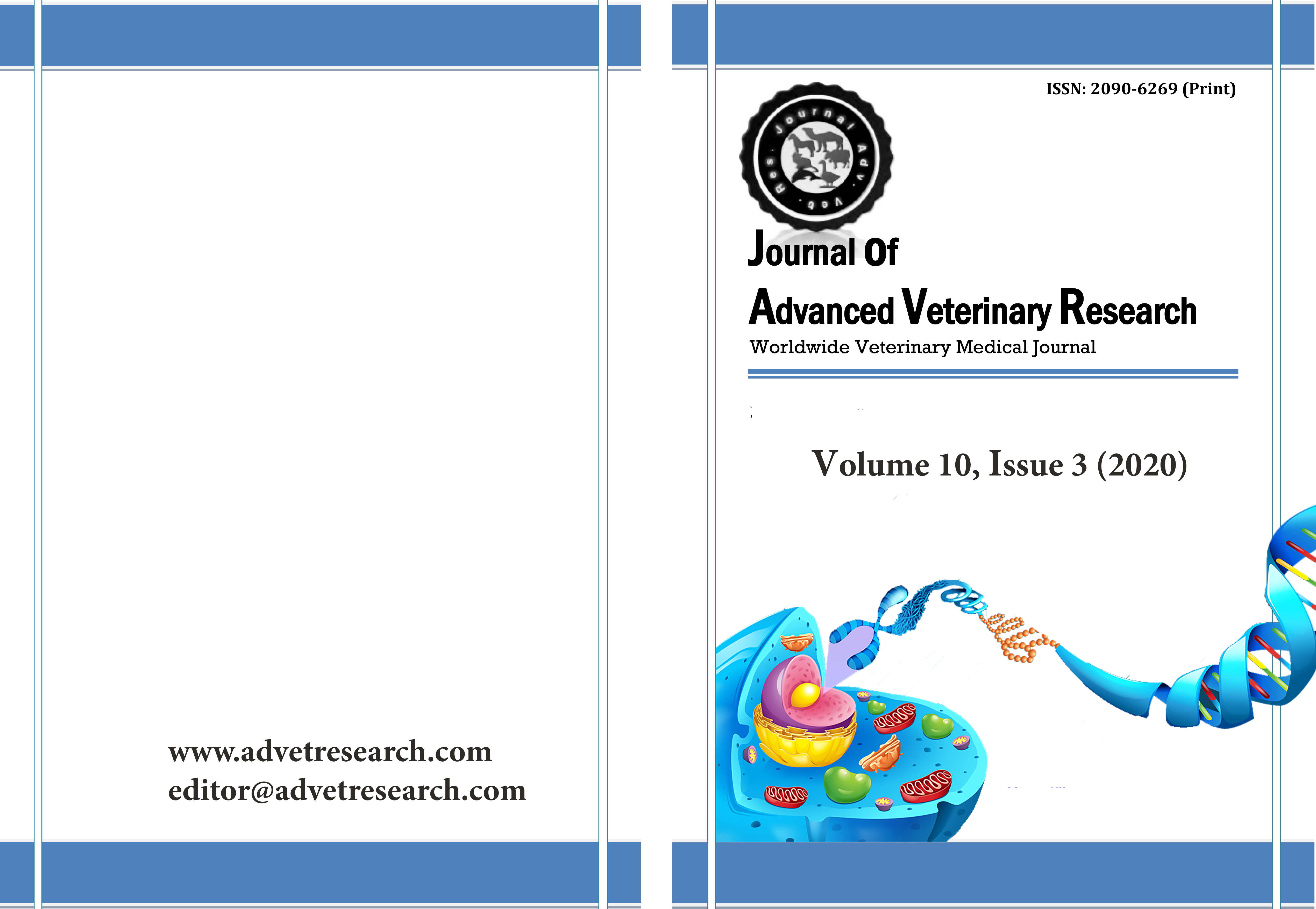 Downloads
How to Cite
YOUSSAO ABDOU KARIM, I., DOTCHE, I. O., HOUAGA, I., KASSA, K. S., & ALLADAYE, V. (2020). Phenotypic Characterization and Temporal Evolution of Cattle Breed Diversity in Djidja, Benin. Journal of Advanced Veterinary Research, 10(3), 146-153. Retrieved from https://advetresearch.com/index.php/AVR/article/view/468
Section
Original Research
License
Copyright (c) 2020 Journal of Advanced Veterinary Research
This work is licensed under a Creative Commons Attribution-NonCommercial-NoDerivatives 4.0 International License.
Users have the right to read, download, copy, distribute, print, search, or link to the full texts of articles under the following conditions: Creative Commons Attribution-NonCommercial-NoDerivatives 4.0 International (CC BY-NC-ND 4.0).
For more information: