Effect of Diet Restriction and Polymorphism of Bone Morphogenetic Protein-15 and Growth Differentiation Factor-9 (GDF9) on Reproductive Performance of Three Egyptian Fat Tail Sheep Breeds
Abstract
Several genes are controlling prolificay of sheep. The bone morphogenetic protein-15 and growth differentiation factor-9 (GDF9) are control reproductivity of sheep. This study aimed to eplore diet restriction and the polymorphism in the bone morphogenetic protein-15 (BMP15) and growth differentiation factor-9 (GDF9) genes on ovulation and reproductive hormones in three sheep breeds. Ovaries of Rahmani ewes (R, n=56), Barki (B, n=56), and Ossimi ewes (O, n=50) were scanned to determine the preovulatory follicles and ovulation. The harvested sera were used for assaying progesterone, leptin, insulin-like growth Factor-I, and insulin. Whole blood samples were used for gene analysis using two PCR primers for amplifying the fragment 141-bp for FecXG site (exon-2) of the BMP15 gene and 139-bp for FecGH locus (exon-1) of the GDF9 gene. The output amplicons were digested (RFLP) with HinfI and DdeI endonucleases. Results revealed no mutation in the FecXG locus in all breeds. FecGH showed mutations but not in all breeds. Treated O received half dietary requirements for four weeks were the youngest (P=0.0001). Barki had the lightest bodyweight (P=0.017). Treated ewes had a higher (P=0.047) number of large follicles compared to their controls. Treated B and R got larger (P=0.0001) dominant follicles. The ovulation rate did not vary within the diet treated breeds but was lower than their control. Control O and R had higher (P=0.0001) ovulation rate, compared to B. Leptin concentrations were low (P=0.047) in treated B and R. The lowest (P=0.031) insulin concentrations were observed in treated O. In conclusion, the BMP15 loci showed no polymorphism, while the GDF9 loci were polymorphic in all breeds and treatments. Nutritional status and age modified ovulation rate in sheep.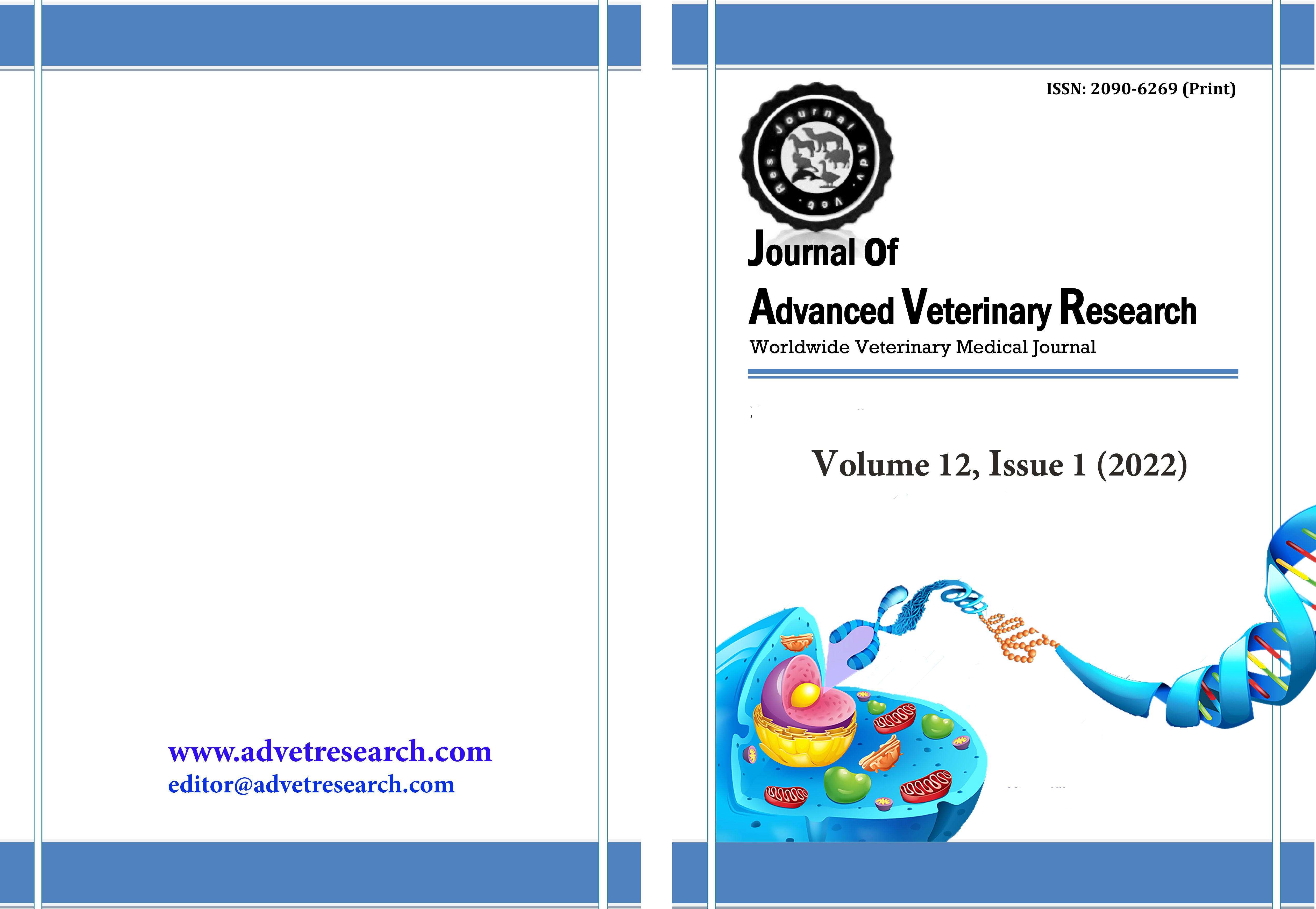 Downloads
How to Cite
Abo El-Maaty, A. M., Abdelhafez, M. A. ., & Mahrous, K. F. (2022). Effect of Diet Restriction and Polymorphism of Bone Morphogenetic Protein-15 and Growth Differentiation Factor-9 (GDF9) on Reproductive Performance of Three Egyptian Fat Tail Sheep Breeds. Journal of Advanced Veterinary Research, 12(1), 18-24. Retrieved from https://advetresearch.com/index.php/AVR/article/view/829
Section
Original Research
License
Copyright (c) 2021 Journal of Advanced Veterinary Research
This work is licensed under a Creative Commons Attribution-NonCommercial-NoDerivatives 4.0 International License.
Users have the right to read, download, copy, distribute, print, search, or link to the full texts of articles under the following conditions: Creative Commons Attribution-NonCommercial-NoDerivatives 4.0 International (CC BY-NC-ND 4.0).
For more information: