Investigation of the Pathological and Biochemical Characterizations in Naturally Infected Calves with Foot and Mouth Disease (FMD)
Abstract
All cloven-hoofed animals are susceptible to foot-and-mouth disease (FMD) which is highly contagious viral illness. FMD is answerable for serious economic losses in Egypt. Despite the primary control approach being annual mass vaccination campaigns using polyvalent inactivated vaccinations, failure of vaccination has been according in several cases. The study was conducted on fifty native breed calves up to one year of age from both sexes, thirty calves suspected to be infected with FMD, and twenty clinically healthy calves were considered as controls. A total of fifty samples from organs (heart- epithelial tissue) were gathered from calves suspected to be FMD infected obtained from September 2021 to March 2022 in Sharkia and Menofeia governorates / Egypt. The current study was designed for the isolation of FMDV using BHK-21 cells. Molecular identification, through the extraction of Viral RNA, and RT-PCR were used to test samples for the FMDV virus. Diseased animals have changes in body temperature, respiration rate, and heart rate compared to controls. Moreover, murmur sounds were observed during auscultation of the heart. A hematological study revealed significant reductions in the RBCs count, hemoglobin concentration, and PCV% with leukopenia and lymphopenia in the diseased group. The serum cardiac troponin, lipase, non-esterified fatty acid, beta hydroxyl butyric acid, glucose, AST, ALT activities, and blood urea nitrogen were considerably enhanced in diseased animals. But serum insulin and amylase were significantly reduced in diseased calves. Histopathological examination of calves revealed extensive lymph histiocytic myocarditis and necrotic lesions in the pancreas, liver, and kidney. In conclusion, the early stages of FMD in calves is characterized by myocardial cell injury, elevation of blood cardiac troponin, and necrotic pancreatitis represented by atrophy of pancreatic glands and islets of Langerhans.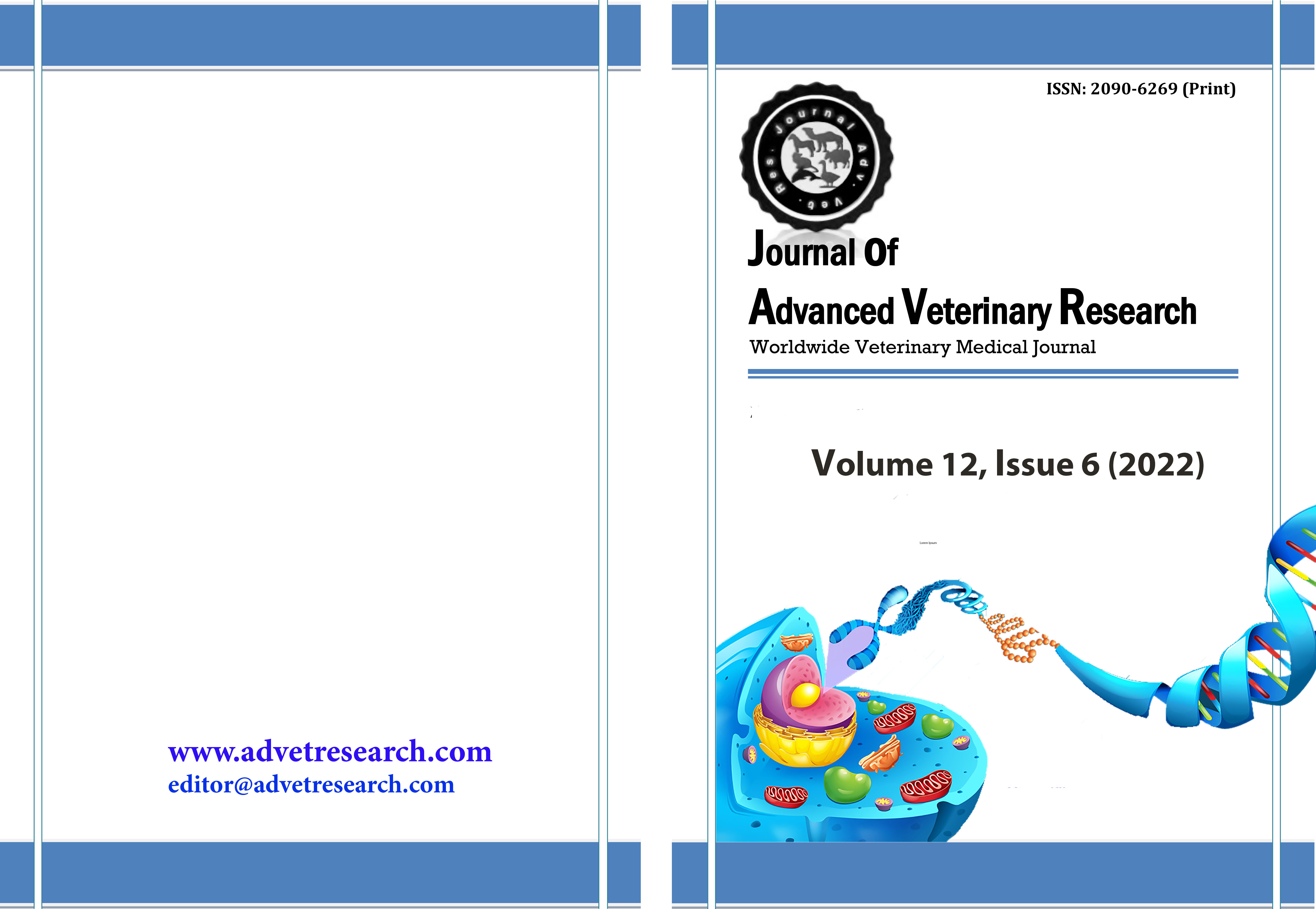 Downloads
How to Cite
Alagmy, G. N. ., Abdel-Hamied, S. S. ., Salah, S. ., Ewis, H. A. ., Megahed, H. M. ., & Mohamed, D. T. . (2022). Investigation of the Pathological and Biochemical Characterizations in Naturally Infected Calves with Foot and Mouth Disease (FMD). Journal of Advanced Veterinary Research, 12(6), 728-735. Retrieved from https://advetresearch.com/index.php/AVR/article/view/1086
Section
Original Research
License
Copyright (c) 2022 Journal of Advanced Veterinary Research
This work is licensed under a Creative Commons Attribution-NonCommercial-NoDerivatives 4.0 International License.
Users have the right to read, download, copy, distribute, print, search, or link to the full texts of articles under the following conditions: Creative Commons Attribution-NonCommercial-NoDerivatives 4.0 International (CC BY-NC-ND 4.0).
For more information: