Immunological Studies on Cattle Naturally Infected with FMD Compared with the Vaccinated Cattle in Sharkia Governorate, Egypt
Abstract
Foot and mouth disease (FMD) is a highly contagious viral disease. Despite annual mass vaccination programs in Egypt, the incidence and economic losses are high. The Samples were collected after clinical examination of animals in 2022 and divided into three groups; Group 1(G1): Fifteen samples were collected from apparently healthy cattle (control group). Twenty-five samples were collected from cattle with suspected symptoms of FMD and divided into 2 groups 15 non-vaccinated Group 2(G2) and 10 vaccinated cattle Group 3(G3). Isolation of FMDV using BHK-21 cells was done. Molecular identification, sequencing, and phylogenetic analysis of new FMDV serotypes A and O circulating variants from G2 and G3 regarding targeting the VP1 gene. Results demonstrated that genotype O was related to East Africa-3 (EA-3) topotype. Identification of FMDV using PCR for field isolates, revealed that genotype A was related to genotype IV of the African topotype. The isolated virus on BHK-21 showed characteristic cytopathic effects (CPE). Hematological analysis showed a significant decrease in most hematological parameters with neutrophilia and lymphopenia. Serum biochemical constituents revealed a significant increase in AST, ALT, urea, creatinine, and cortisol, while a significant decrease in the total protein, albumin, and globulins in (G2). The vaccinated group showed a significant increase in serum AST and cortisol. The highest values of IL10, CRP, Troponin 1, Haptoglobin, and Complement 3 in the infected group (G2). Pathological examination revealed ulcerative dermatitis on the tongues and the coronary bands of the hoof. The heart revealed severe lymphocytic myocarditis with depletion of lymph nodes and spleen. While vaccinated (G3) revealed a significant decrease in RBC count and Hb concentration also lymphocytosis, neutropenia, and leukocytosis were founded. while the lowest values of IL10, and Haptoglobin were reported in the vaccinated one (G3). The recorded level of IgG showed a severe decrease in G2 and a high increase in G3. The pathological lesions recorded in G3 were milder than in G2. It could be concluded that the isolates in this study from both groups non-vaccinated and vaccinated were matching each other while not matching with the local vaccinal strain. The vaccinated cattle in 2022 had mild to moderate immunity against the disease.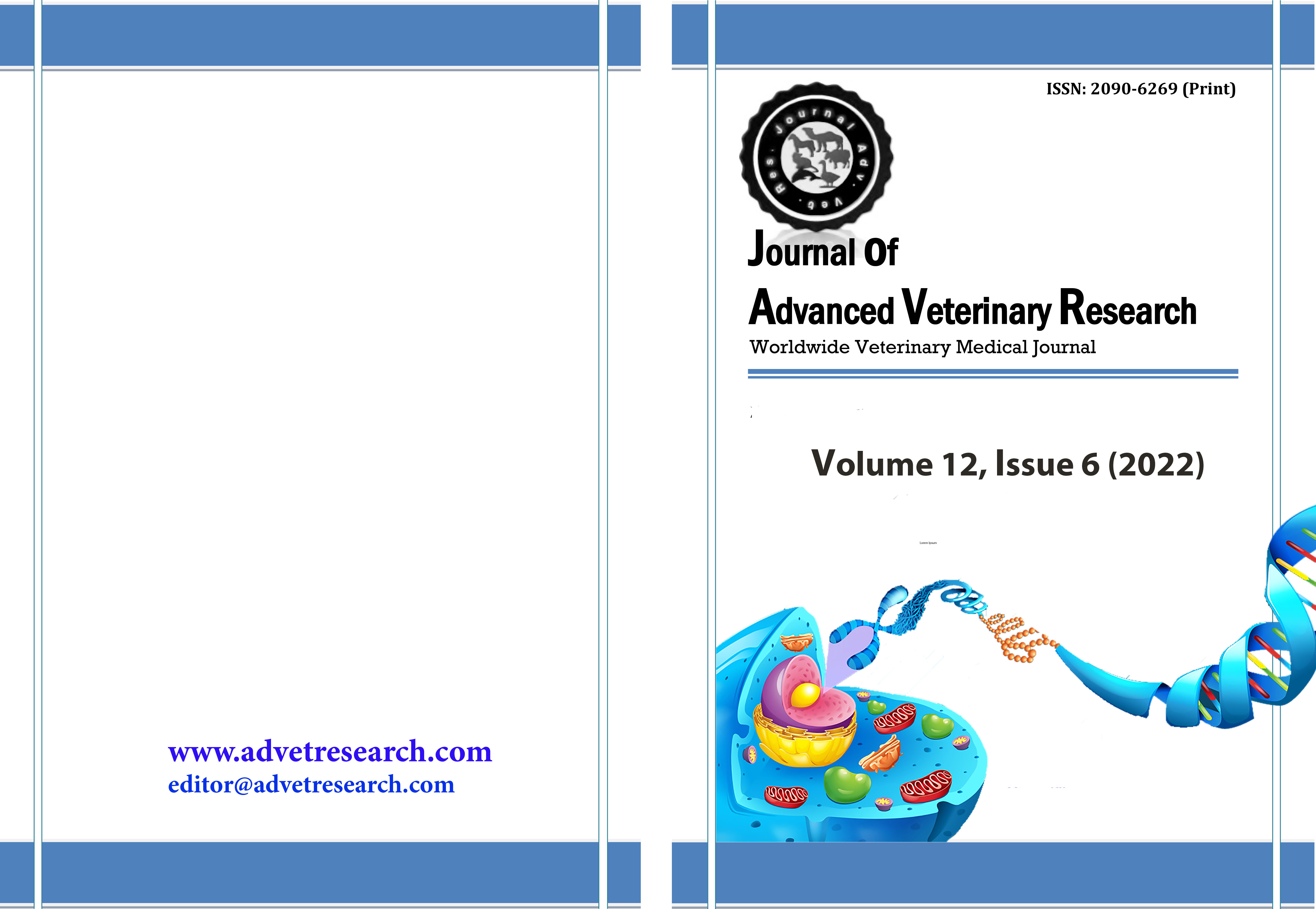 Downloads
How to Cite
Eid, S. A., Alagmy, G. N., Hamed, T. A. ., Abdelwahed, D. A. ., & Salah, S. . (2022). Immunological Studies on Cattle Naturally Infected with FMD Compared with the Vaccinated Cattle in Sharkia Governorate, Egypt. Journal of Advanced Veterinary Research, 12(6), 694-705. Retrieved from https://advetresearch.com/index.php/AVR/article/view/1089
Section
Original Research
License
Copyright (c) 2022 Journal of Advanced Veterinary Research
This work is licensed under a Creative Commons Attribution-NonCommercial-NoDerivatives 4.0 International License.
Users have the right to read, download, copy, distribute, print, search, or link to the full texts of articles under the following conditions: Creative Commons Attribution-NonCommercial-NoDerivatives 4.0 International (CC BY-NC-ND 4.0).
For more information: