Risk Assessment and Quinolones Plasmid-mediated Resistance Genes in Intensive Broiler Farms
Abstract
Quinolones are frequently applied in intensive production and their risks are creation of residues and development of bacterial resistance, which is one of the major challenges to human health. Muscle, liver and kidney as well as, intestinal contents were collected from intensive broiler farms in Upper Egypt. Samples were analyzed for quinolones residues (norfloxacin, ciprofloxacin, enrofloxacin and danofloxacin) using HPLC. Intestinal contents were investigated for two plasmid-mediated resistance genes; qnrA, qnrB and one chromosomal gene; gyrA. All liver and kidney samples were contaminated with enrofloxacin and the highest level was found in the liver that exceeded the maximum residue limit, which contribute to health hazards for adult and children. QnrB and gyrA genes could be detected in 25% and 8% of the samples, respectively. This study represents the first record about existence of qnrB and gyrA in broiler intestinal content. These results denoted that some broilers' edibles sold in Egypt contain high level of quinolones. Litter from intensive farms maybe considered as a critical source of resistant genes giving a chance of horizontal transfer of resistant determinants. Consequently, it is necessary to examine broiler products and by-products for the presence of residual quinolones and resistance genes.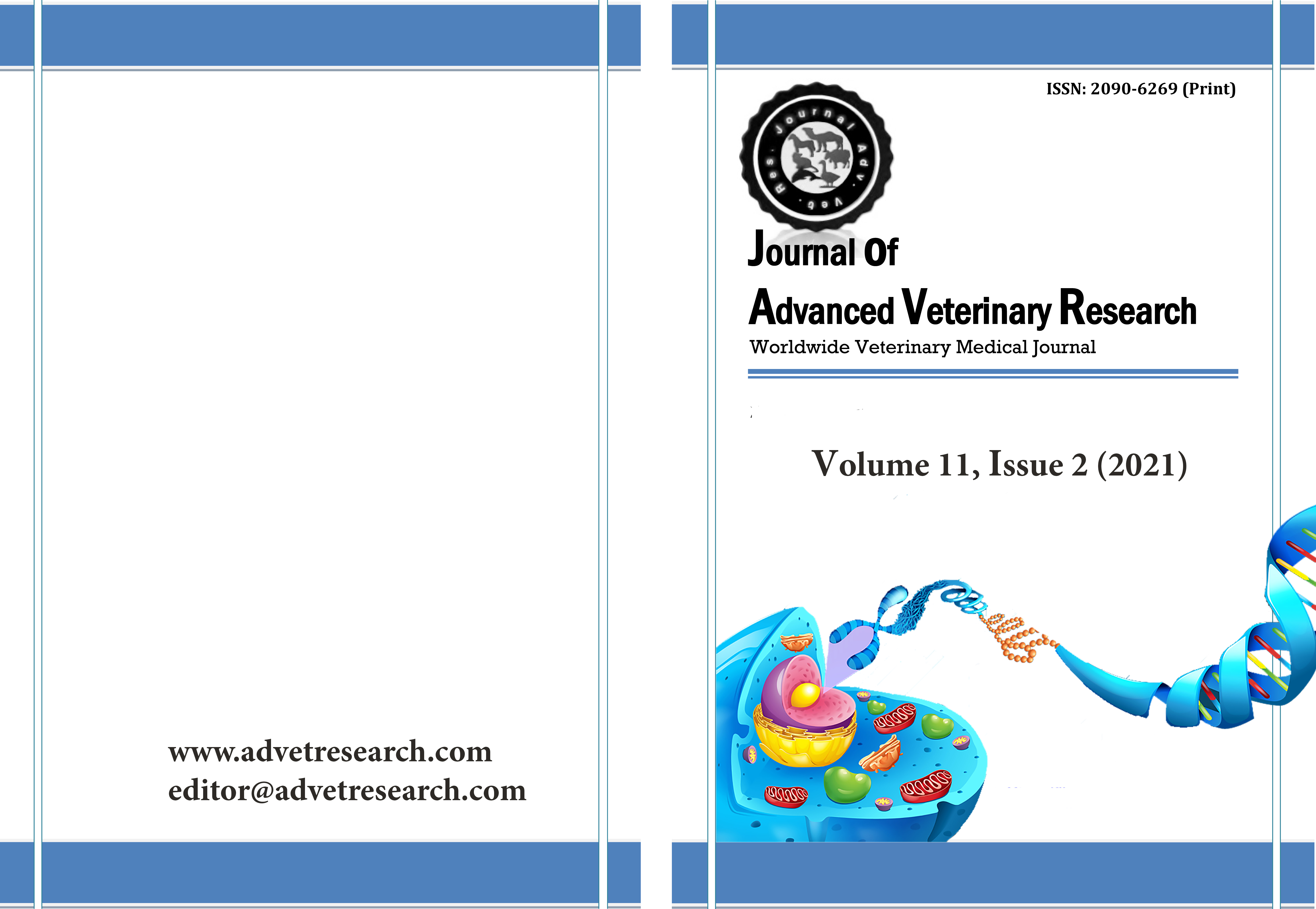 Downloads
How to Cite
Abdel-Mohsein, H. S., Ibrahim, A. A. ., & Mahmoud, M. A. . (2021). Risk Assessment and Quinolones Plasmid-mediated Resistance Genes in Intensive Broiler Farms . Journal of Advanced Veterinary Research, 11(2), 110-118. Retrieved from https://advetresearch.com/index.php/AVR/article/view/693
Section
Original Research
License
Copyright (c) 2021 Journal of Advanced Veterinary Research
This work is licensed under a Creative Commons Attribution-NonCommercial-NoDerivatives 4.0 International License.
Users have the right to read, download, copy, distribute, print, search, or link to the full texts of articles under the following conditions: Creative Commons Attribution-NonCommercial-NoDerivatives 4.0 International (CC BY-NC-ND 4.0).
For more information: