A Preliminary Study on the Helminth Fauna in Necropsied Stray Cats (Felis catus) in Beni-Suef, Egypt
Keywords:
Beni-Suef, Helminths, Prevalence, Stray Cats
Abstract
Stray cats play a crucial role in the epidemiology of endoparasites, particularly helminths, due to predating a wide range of both vertebrate and invertebrate hosts, often of veterinary and zoonotic importance. Therefore, a total of 62 stray cats were necropsied in Beni-Suef province, Egypt and examined for helminth parasites. The overall prevalence of infection was 87.0%. The recovered helminths consisted of 10 species of trematodes (Heterophyes heterophyes, Pygidiopsis summa, H. nocens, Echinochasmus liliputanus, Alaria sp., Procerovum varium, Ascocotyle sp., Haplorchis sp., Prohemistomum vivax, Euparadistomum herpestesi), five cestodes (Dipylidium caninum, Diplopylidium acanthoterta, D. nolleri, Joyeuxiella sp. and Taenia taeniaeformis), and two nematodes (Toxascaris leonina and larvae of Anisakis simplex). The most prevalent helminths were Dipylidium caninum (62.9%), Toxascaris leonina (33.8%), Diplopylidium nolleri (22.5%) and Echinochasmus liliputanus (6.45%). Thirty (48.39%) cats were co-infected by one species, 22 (35.48%) by two and three (4.84%) by more than two species. It has been found that cats aged more than 3 years were the most infected. Both male and female cats were parasitized. The infection was the most prevalent in both summer and autumn. In conclusion, veterinarians must highlight more attention towards both stray and domestic cats, as they are considered reservoir hosts for a wide host range of parasites, particularly helminths, and the zoonotic importance of such parasites should be taken on consideration.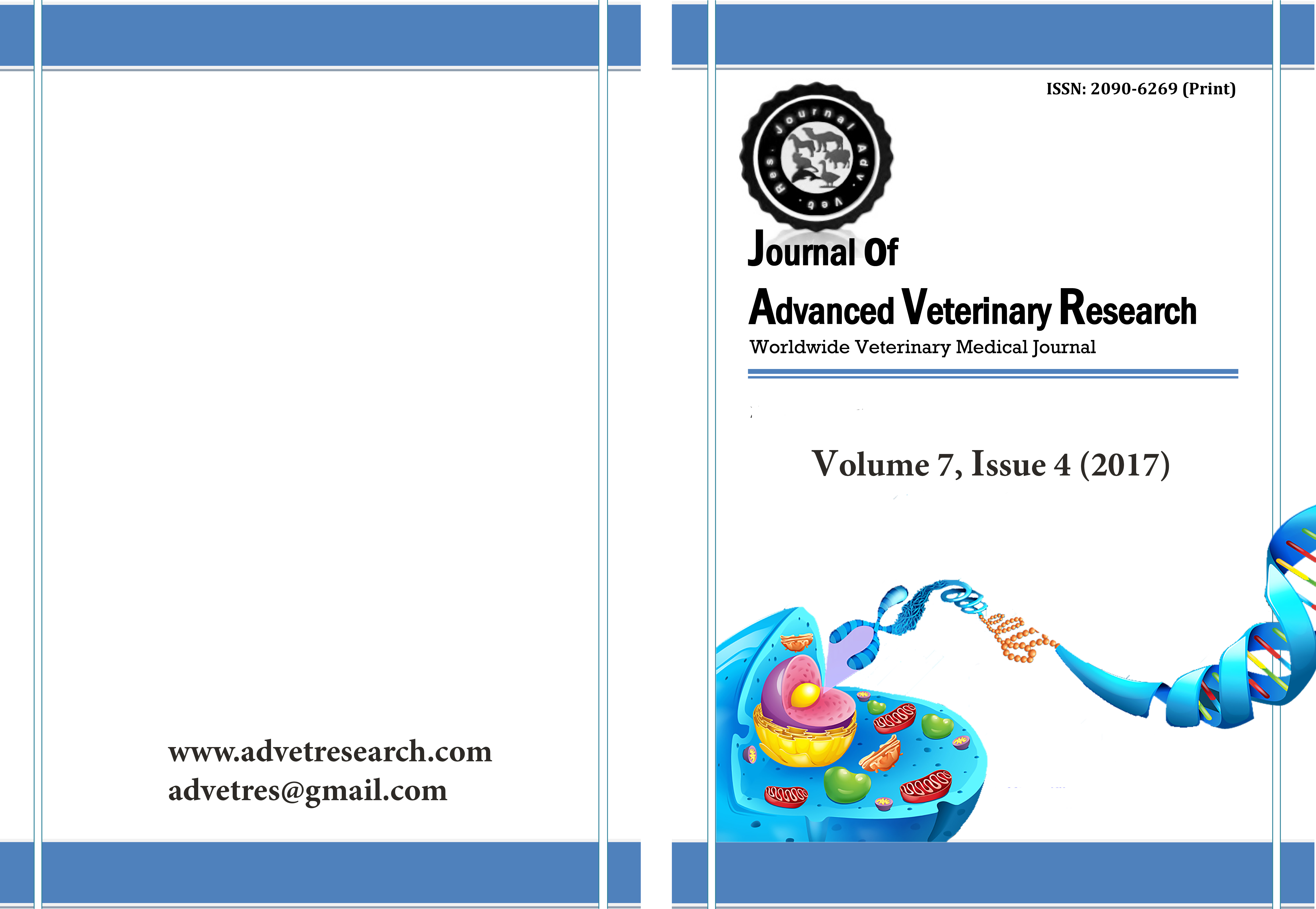 Downloads
How to Cite
El-Dakhly, K. M., Aboshinaf, A. M., El-Nahass, E.-S., & Gharib, A. E.-T. F. (2017). A Preliminary Study on the Helminth Fauna in Necropsied Stray Cats (Felis catus) in Beni-Suef, Egypt. Journal of Advanced Veterinary Research, 7(4), 87-92. Retrieved from https://advetresearch.com/index.php/AVR/article/view/262
Section
Original Research
License
Users have the right to read, download, copy, distribute, print, search, or link to the full texts of articles under the following conditions: Creative Commons Attribution-NonCommercial-NoDerivatives 4.0 International (CC BY-NC-ND 4.0).
For more information: