Gastrointestinal Helminthic Infections in Egyptian Domestic Camels, Camelus dromedarius, with a Special Reference to Trichostrongylids
Abstract
In Egypt, scare literature explored the coprological examination of domestic camels. Therefore, a total of 626 fecal samples from domestic dromedaries, Camelus dromedaries, permitted to slaughtering in El-Warrak abattoir, Giza were taken. Coproparasitological investigations including sedimentation and floatation techniques, fecal culture and larval identification were done. The overall prevalence of parasitic infections was 41.53%. Fifteen species of helminth eggs/protozoan oocysts were recovered. The prevalence of helminths was 28.11% (176/626) and that of protozoa was 5.59% (35/626). Mixed infections were reported in 7.82% (49/626) of camels. The revealed trematode was Fasciola sp. (1.12%), tapeworms belonged to Anoplocephalids (5.27%), protozoan oocysts were Eimeria cameli, E. dromedarii, E. rajasthani (11.02% for all Eimeria spp.) and Buxtonella sp. (0.32%). The recovered nematodes belonged to Trichuris sp. (1.92%) and trichostrongyles (31.0%). Coproculture of the later revealed the presence of 8 species; Trichostrongylus axei, Tr. colubriformis, Chabertia ovina, Ostertagia ostertagi, Haemonchus sp., Oesophagostomum sp., Bunostomum sp. and Nematodirus sp. Morphometric characteristics of larvae were recorded. Age and seasonal variations revealed significant (P≤0.05) differences among examined camels. Animals aged more than 5 years had the highest infections rate (45.96%; 199/433) and nematodes were the significantly (P≤0.05) predominant. In winter, the highest prevalence (60.67%; 108/178) was recorded. Oppositely, sex had no significant differences. Due to the expected important role played by imported camels in transmitting various parasitic infections, veterinarians and parasitologists are extremely advised to apply further studies on the helminth fauna, particularly gastrointestinal nematodes, of both domestic and imported camels, by the use of traditional and molecular tools.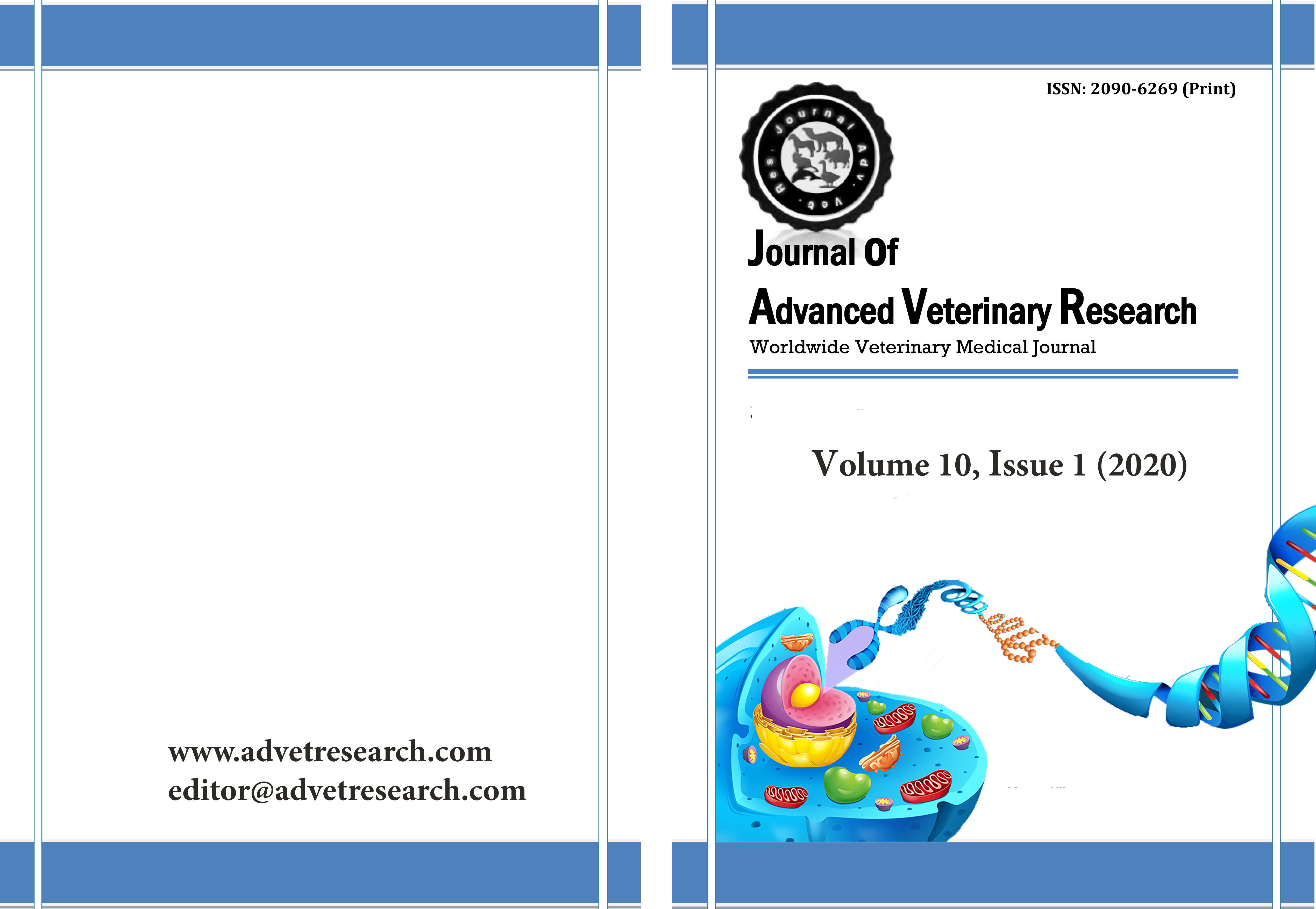 How to Cite
El-Dakhly, K. M., Arafa, W. M., Mahrous, L. N., & Yousef, A. M. (2020). Gastrointestinal Helminthic Infections in Egyptian Domestic Camels, Camelus dromedarius, with a Special Reference to Trichostrongylids. Journal of Advanced Veterinary Research, 10(1), 21-28. Retrieved from https://advetresearch.com/index.php/AVR/article/view/420
Section
Original Research
License
Users have the right to read, download, copy, distribute, print, search, or link to the full texts of articles under the following conditions: Creative Commons Attribution-NonCommercial-NoDerivatives 4.0 International (CC BY-NC-ND 4.0).
For more information: