Prevalence, Distribution Pattern and Pathological Alterations of Gastro-intestinal Helminthosis in Domestic Ducks in Beni-Suef, Egypt
Abstract
`           In Egypt, scarce literature on helminthosis in aquatic birds, particularly ducks, were reported. Therefore, the current study was conducted to explore the prevalence of helminth infections, and the associated histopathological alterations, in domestic ducks in Beni-Suef, Egypt. Accordingly, a total of 510 ducks (260 native, 150 mallard and 100 Muscovy) were collected from villages and local markets to screen the gastrointestinal helminthosis during the period from October 2018 to November 2019. It was found that the overall prevalence was 13.92% (71/510). Among those, 11 (2.16%) ducks had mixed infections. The recovered species were 8 tapeworm species and 5 nematode species. Among tapeworms, Raillietina tetragona was the most prevalent (1.96%; 10/510) followed by R. cesticillus (1.57%; 8/510), Amoebotaenia cuneata (1.18%;6/510), Cotugnia digonopora (0.98%;5/510), R. echinobothrida (0.78%; 4/510), Hymenolepis apodemi-like (0.78%; 4/510), Choanotaenia infundibulum (0.59%; 3/510) and H. carioca (0.39%; 2/510). Among nematodes, the most prevalent species was Ascaridia galli (5.10%; 26/510) followed by Heterakis gallinarum (1.76%; 9/510), Subulura brumpti (0.59%; 3/510), Trichostrongylus tenuis (0.2%; 1/510) and Epomidiostomum uncinatum (0.2%; 1/510). The highest prevalence was recorded in native breed, while the lowest was in Muscovy ducks. Seasonally, the highest prevalence was detected in autumn and summer, while the lowest infection rate was recorded in winter. Histopathologically, diffuse degenerative changes and necrosis of intestinal mucosa as well as hyalinosis of the muscular layer were predominant. Further studies on other aquatic birds in Egypt are urgently demanded to verify helminth parasites posing on the associated risk factors to minimize economic losses resulted from mortalities induced by those parasitic infections. Moreover, regular control programming including effective treatment is highly recommended.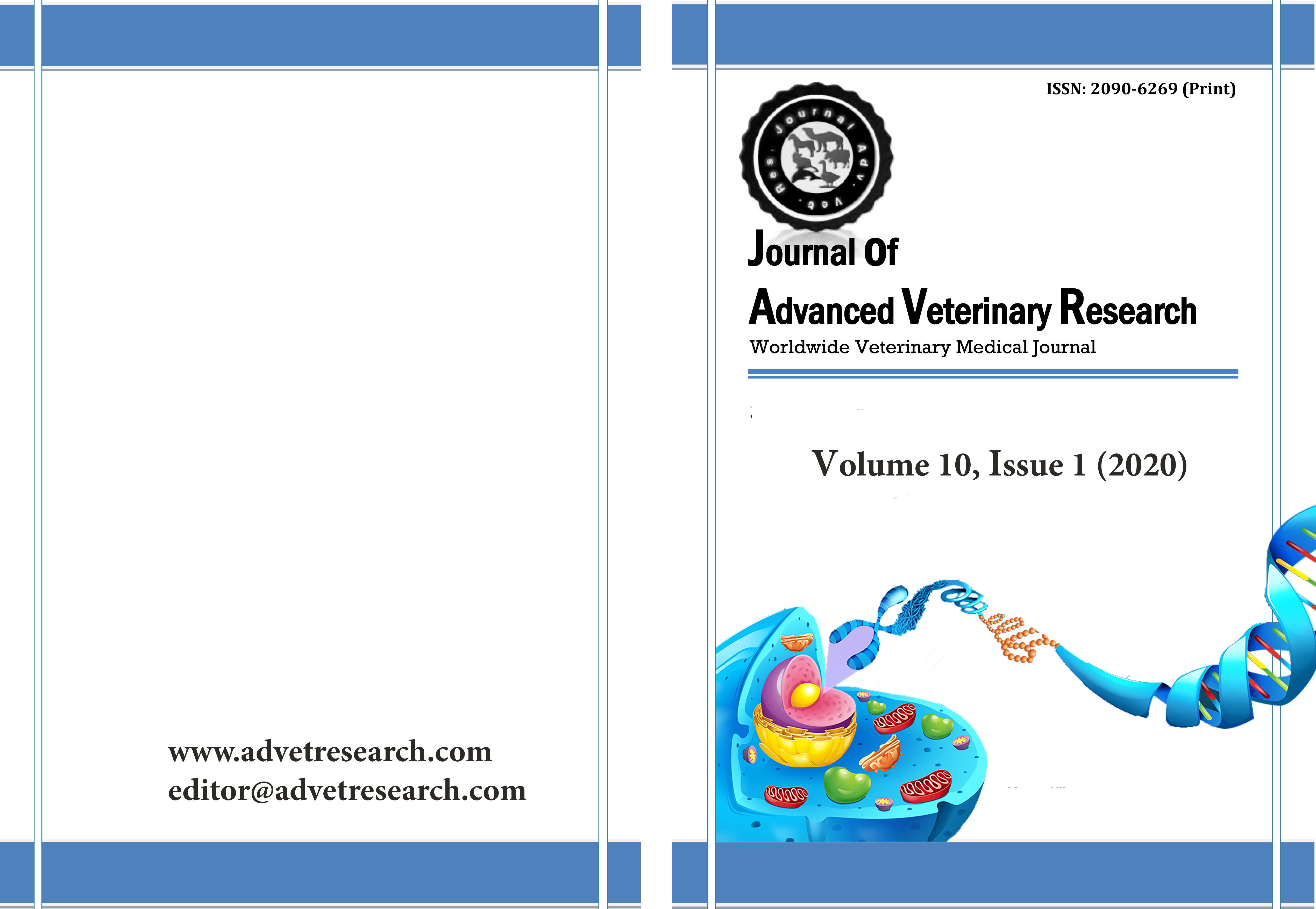 How to Cite
El-Dakhly, K. M., Mohamed, H., Kamel, A., Mahrous, L., El-Nahass, E.-S., & Aboshinaf, A. (2020). Prevalence, Distribution Pattern and Pathological Alterations of Gastro-intestinal Helminthosis in Domestic Ducks in Beni-Suef, Egypt. Journal of Advanced Veterinary Research, 10(1), 1-8. Retrieved from https://advetresearch.com/index.php/AVR/article/view/419
Section
Original Research
License
Users have the right to read, download, copy, distribute, print, search, or link to the full texts of articles under the following conditions: Creative Commons Attribution-NonCommercial-NoDerivatives 4.0 International (CC BY-NC-ND 4.0).
For more information: