Biochemical Evaluation of some Natural Feed Additives against Dexamethasone-induced Metabolic Alterations in Rabbits
Abstract
Glucocorticoid therapy is limited by numerous metabolic adverse effects associated with long term exposure to excess doses. Therefore, the present study aims to determine the possible protective effects of date palm and/or Saccharomyces cerevisiae probiotics on dexamethasone-induced metabolic changes in rabbits. 25 healthy male white New Zealand rabbits were grouped into group 1 (control), group 2 (2 mg/kg bw/day dexamethasone I/M), group 3 (0.5 g/kg/day date palm flesh+2 mg/kg bw/day dexamethasone I/M), group 4 (1g/kg/day S. cerevisiae probiotic + 2 mg/kg bw/day dexamethasone I/M), group 5 (date palm flesh + S. cerevisiae probiotic + dexamethasone at the aforementioned doses). Dexamethasone injection resulted in marked increases (p≤0.05) in hepatic MDA concentration and catalase activity, as well as significant decreases in hepatic GSH concentration and body weight gain. The serum levels of glucose, lipid profile (TG, cholesterol, VLDL, LDL/HDL risk ratio), and liver function biomarkers (serum total proteins, albumin, ALT, ALP) showed significant variations (P≤0.05) between control and dexamethasone treated group. The ameliorative effect of date palm fruit and/or probiotics (S. cerevisiae) was markedly indicated by restoration of these tested parameters to near normalcy. Therefore, the co-treatment with date or S. cerevisiae could be considered of great interest as potential feed additives for reduction of the adverse metabolic effects induced by dexamethasone in rabbits.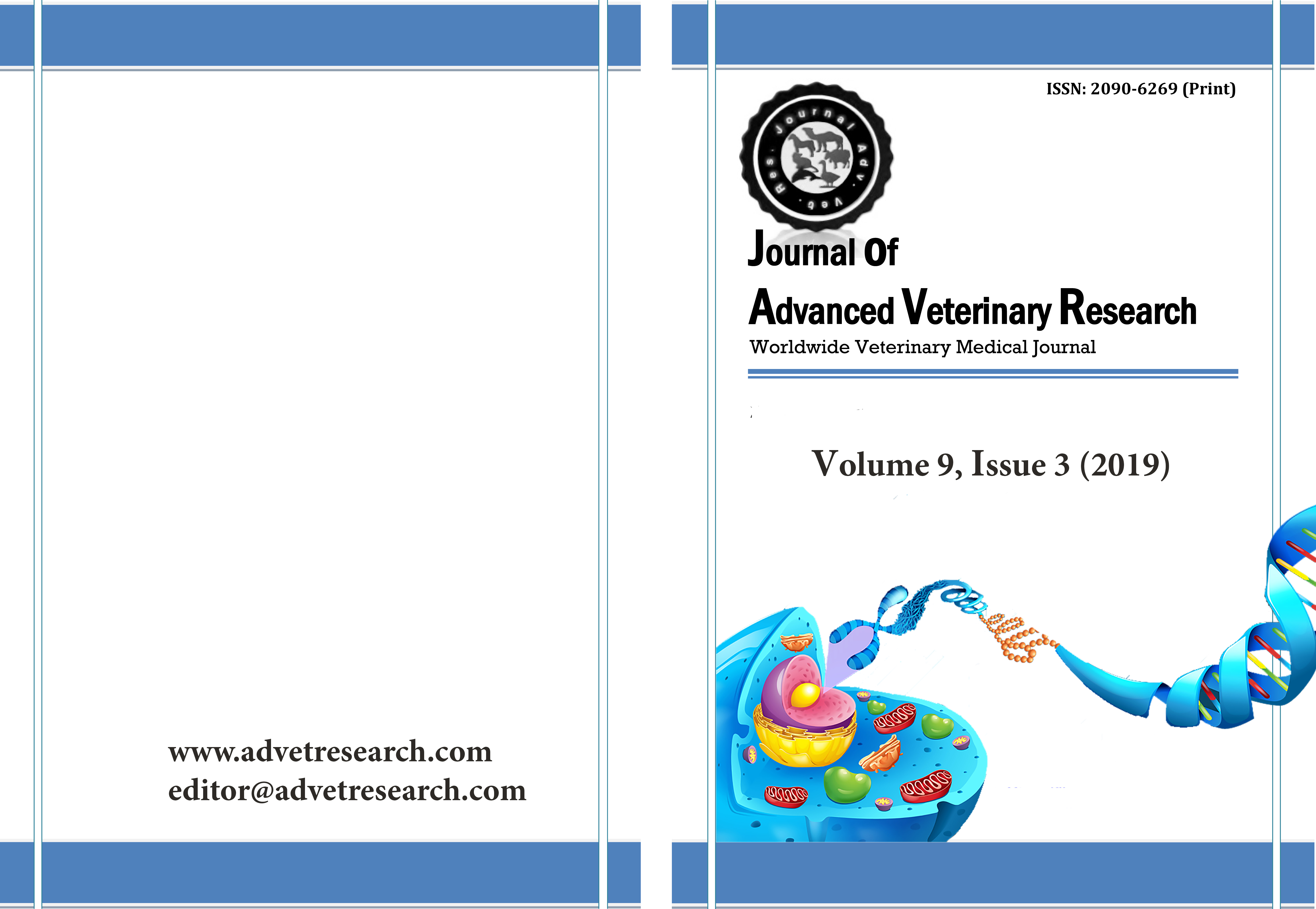 How to Cite
Kandeil, M. A., Mohammed, E. T., Ali, O. I., & Abd-Elrahman, A. M. (2019). Biochemical Evaluation of some Natural Feed Additives against Dexamethasone-induced Metabolic Alterations in Rabbits. Journal of Advanced Veterinary Research, 9(3), 107-116. Retrieved from https://advetresearch.com/index.php/AVR/article/view/384
Section
Original Research
License
Users have the right to read, download, copy, distribute, print, search, or link to the full texts of articles under the following conditions: Creative Commons Attribution-NonCommercial-NoDerivatives 4.0 International (CC BY-NC-ND 4.0).
For more information: