Effect of Feeding Probiotic on Performance of Broiler Ducks Fed Different Protein Levels
Rasha I.M. Hassan

Gamal M.M. Mosaad

Abd elstar M. Abd-ellah
Abstract
The present study was performed to investigate the effect of feeding Saccharomyces cerevisiae (probiotic) with different protein levels on duck performance, carcass traits and blood parameters. A total number of 40 two weeks old Molar ducklings randomly distributed into 4 equal groups.The first group was fed on control diet (16% CP) without any feed additives, while groups 2, 3 and 4 (T2, T3 and T4) were fed on basal diets containing 16, 14 and 12% CP respectively and supplemented with probiotic. Additives was probiotic, thepax (Saccharomyces cerevisiae), at 0.1% of the grower-finisher diet. The results showed that, birds fed on 16% protein diet supplemented with probiotic recorded significantly the best live body weight, body weight gain, feed intake and feed conversion compared with other treatments. There were no significant differences in hot carcass percentage, eviscerated percentage, dressing percentage and relative percentage of internal organs (gizzard, heart, liver and spleen), total protein and triglycerides, between different experimental groups. While there were significant (P<0.05) differences in serum albumin, globulin, cholesterol and uric acid between control group and other treatments. The relative economic feed efficiency was the highest in birds fed 16%protein diets supplemented with Saccharomyces cerevisiae compared with other treated groups. It could be concluded that, dietary inclusion of 0.1% S.cerevisiae in 16% protein diet improved body weight, weight gain, feed intake and feed conversion ratio and carcass traits.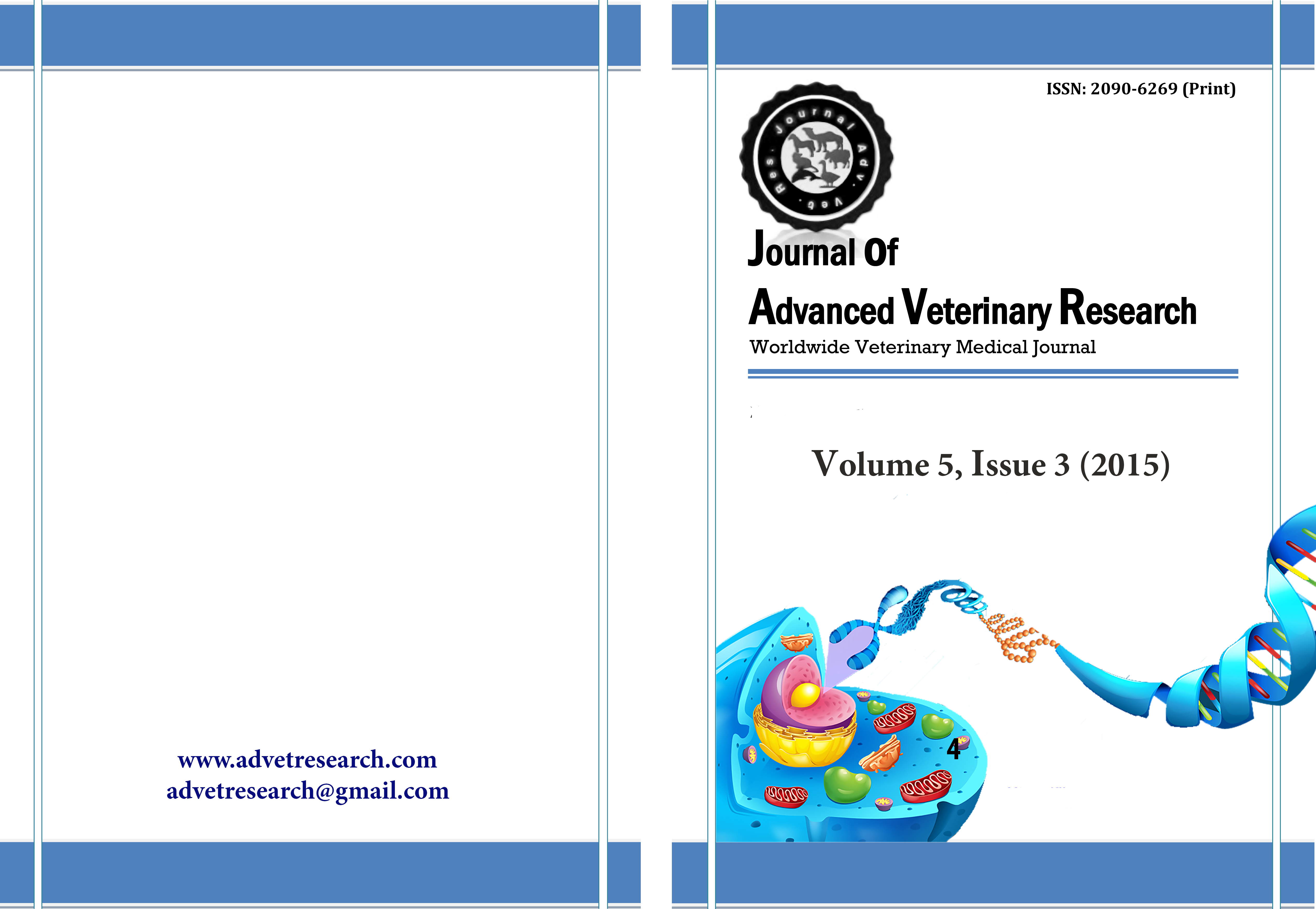 How to Cite
HASSAN, Rasha I.M.; MOSAAD, Gamal M.M.; ABD-ELLAH, Abd elstar M.. Effect of Feeding Probiotic on Performance of Broiler Ducks Fed Different Protein Levels.
Journal of Advanced Veterinary Research
, [S.l.], v. 5, n. 3, p. 136-142, july 2015. ISSN 2090-6277. Available at: <
https://advetresearch.com/index.php/AVR/article/view/56
>. Date accessed: 15 oct. 2019.
Section
Original Research
This work is licensed under a Creative Commons Attribution-NonCommercial-NoDerivatives 4.0 International License.
Users have the right to read, download, copy, distribute, print, search, or link to the full texts of articles under the following conditions: Creative Commons Attribution-NonCommercial-NoDerivatives 4.0 International (CC BY-NC-ND 4.0).
For more information: