Comparative Study on Reference Values for Blood Constituents during Pregnancy in Buffaloes (Bubalus bubalis)
Keywords:
Serum; hematology; buffalo; pregnant; reference values
Abstract
Reference values for buffaloes especially those at pregnancy are not yet established. The aim of this study was to establish serum biochemical and hematological reference values for water buffaloes (Bubalus bubalis) during pregnancy. In total 409 pregnant buffaloes were examined at buffaloes' farms that belong to Assiut Governorate at the mid of Egypt. Out of them, 107 buffaloes did not meet the selection criteria and were excluded from the study. The remained 302 clinically healthy buffaloes were classified according to the stage of pregnancy into two groups: Group I; included buffaloes till 6 months of pregnancy (No.=146). Group II; included buffaloes after 6 months of pregnancy (No.=156). Three types of samples were collected; serum samples for biochemical analysis, whole blood samples for hematological analysis and fecal samples for parasitological examination. A total of 55 blood variables were measured during this study. The 95% reference intervals for each serum biochemical and hematological constituents were calculated by removing the upper and lower 2.5% of the interval to give the 2.5 and 97.5 percentiles. The present study established the reference intervals for the investigated biochemical and hematological parameters in blood of pregnant buffaloes. Results revealed that most of the measured blood constituents were differed significantly during the period before and after 6 months of pregnancy in buffaloes. In conclusion, the established reference values will be a useful guide for interpreting serum biochemical and hematologic data in pregnant buffaloes.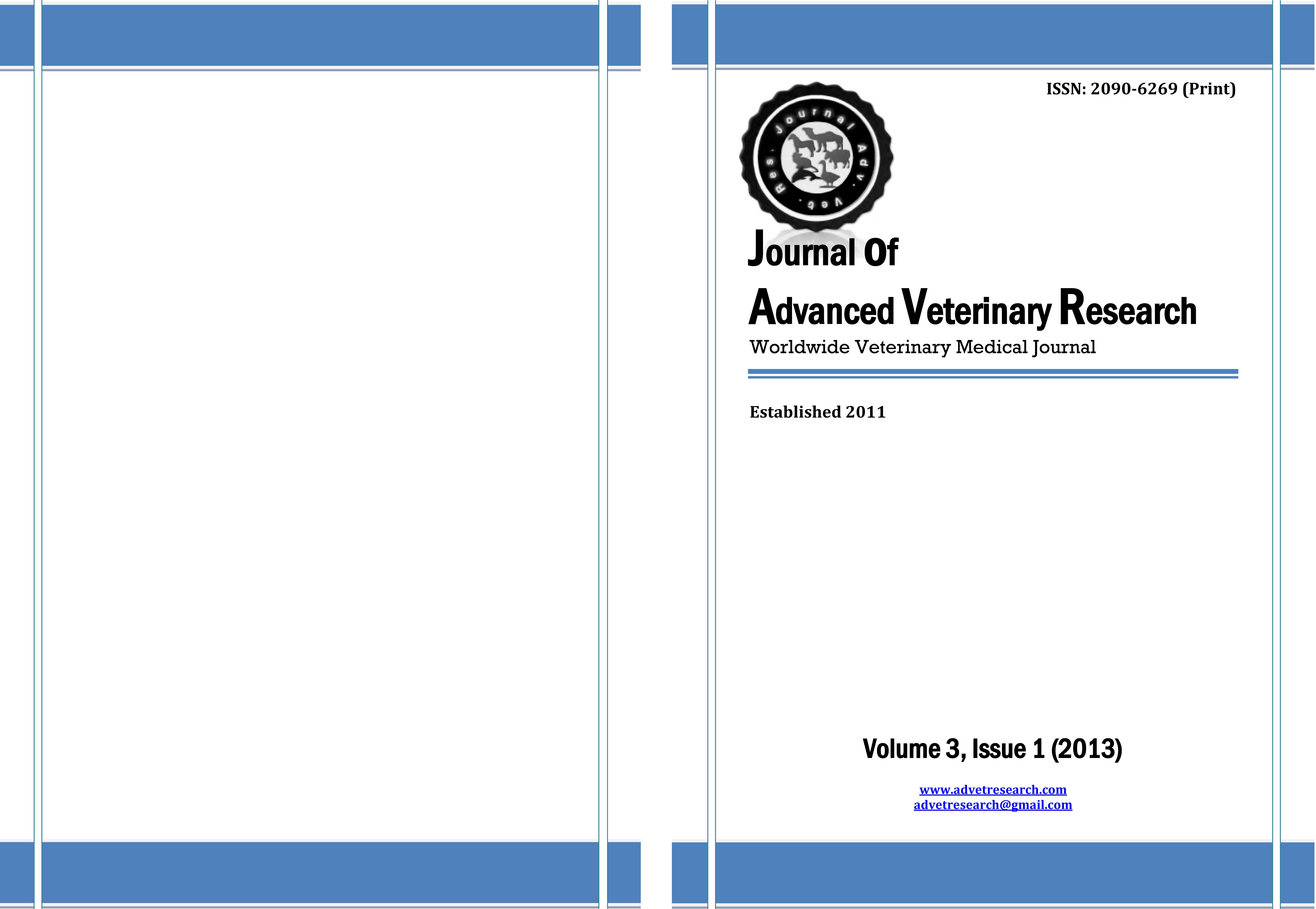 Downloads
How to Cite
Abd Ellah, M. R., Hamed, M. I., Ibrahim, D. R., & Rateb, H. Z. (2013). Comparative Study on Reference Values for Blood Constituents during Pregnancy in Buffaloes (Bubalus bubalis). Journal of Advanced Veterinary Research, 3(1), 36-46. Retrieved from https://advetresearch.com/index.php/AVR/article/view/112
Section
Original Research
License
Users have the right to read, download, copy, distribute, print, search, or link to the full texts of articles under the following conditions: Creative Commons Attribution-NonCommercial-NoDerivatives 4.0 International (CC BY-NC-ND 4.0).
For more information: